Electric Palm, 2017, paint mural for Bay Parc residential tower, Miami.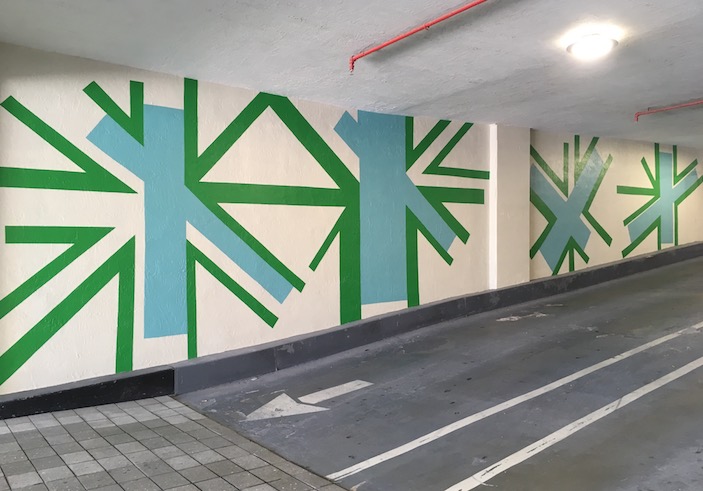 Four Storefronts, 2017, also for Bay Parc, is the first in a series of artist installations in a designated space off the main lobby. Annhy Shim of Shim Projects is a visionary designer who incorporates contemporary art into living environments. The developer of Bay Parc has made a strong commitment to activating the spaces for everyday living throughout the entire building with art.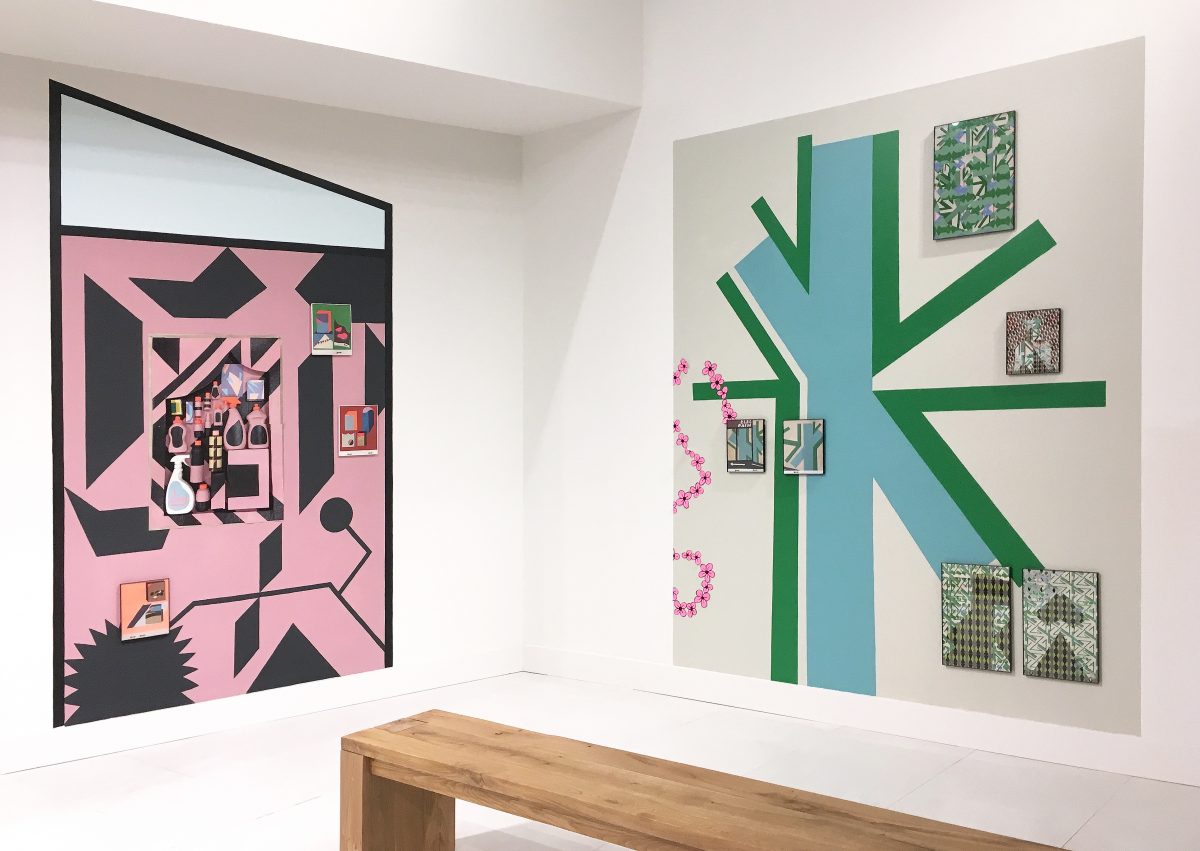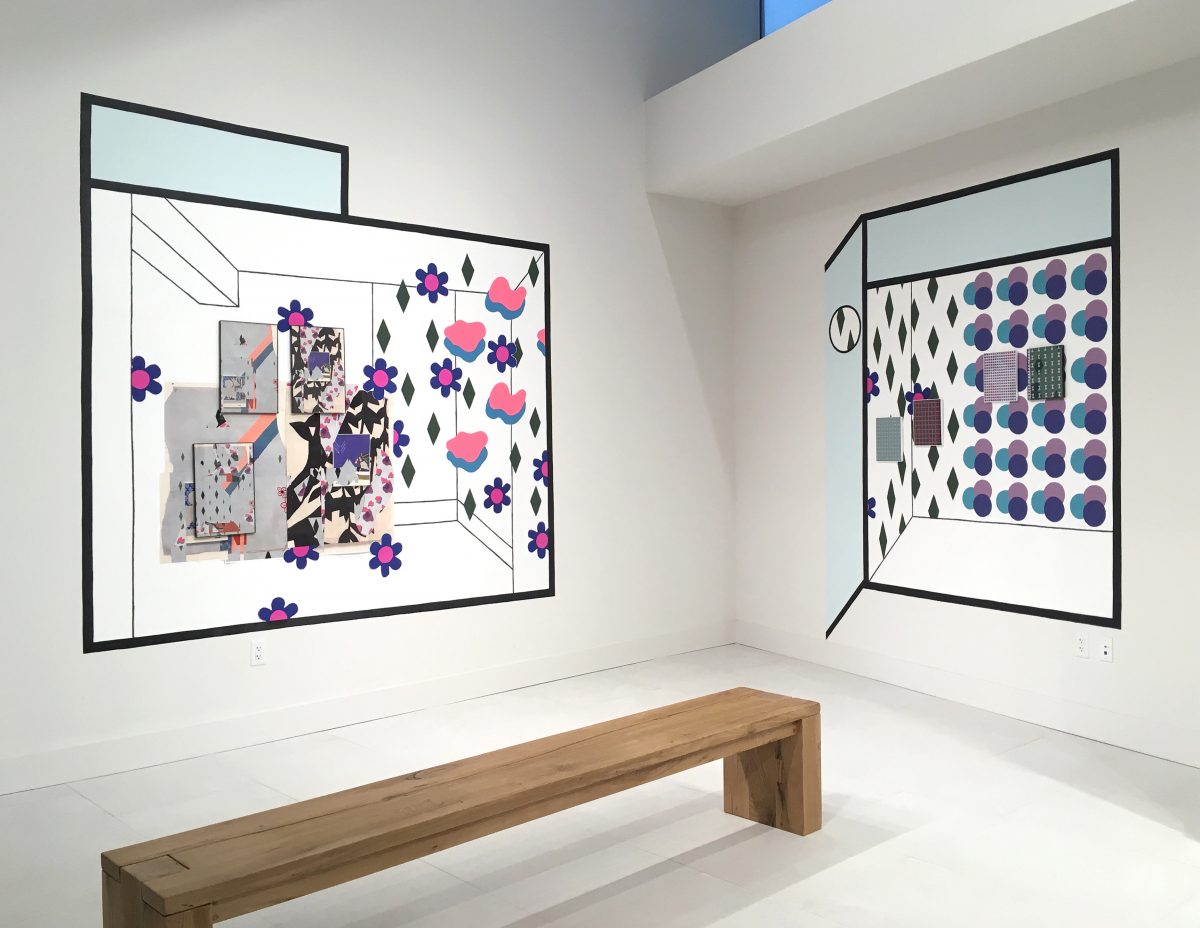 Bay Parc Electric Palm Flower light boxes, 2018
Lightboxes (77″ x 44″ each) with "Electric Palm" imagery that integrates the other Bay Parc projects  will be placed by elevators.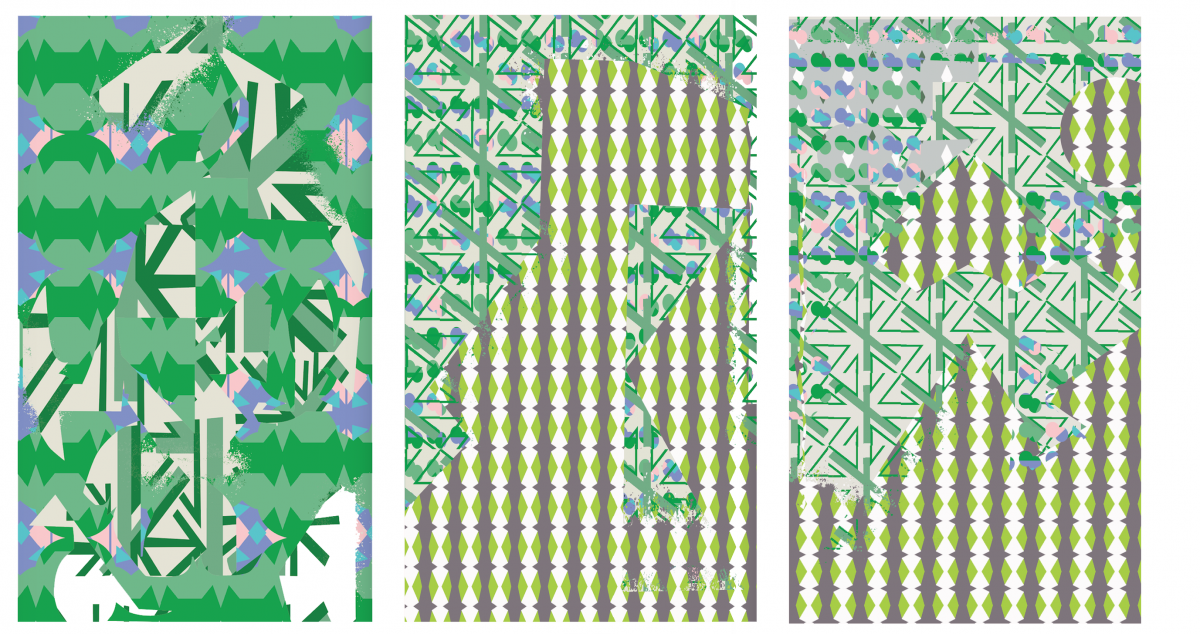 ---
Syncopated Pixels, 2016, Cultural Council of Jacksonville, Florida commissioned vinyl wraps for downtown traffic signal cabinets.  Learn  more – video! – here and here.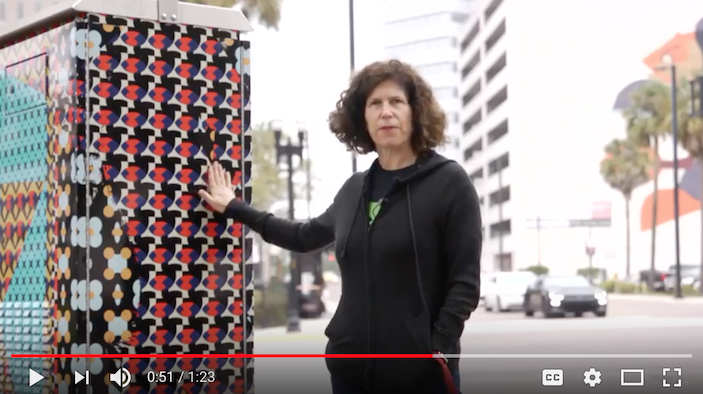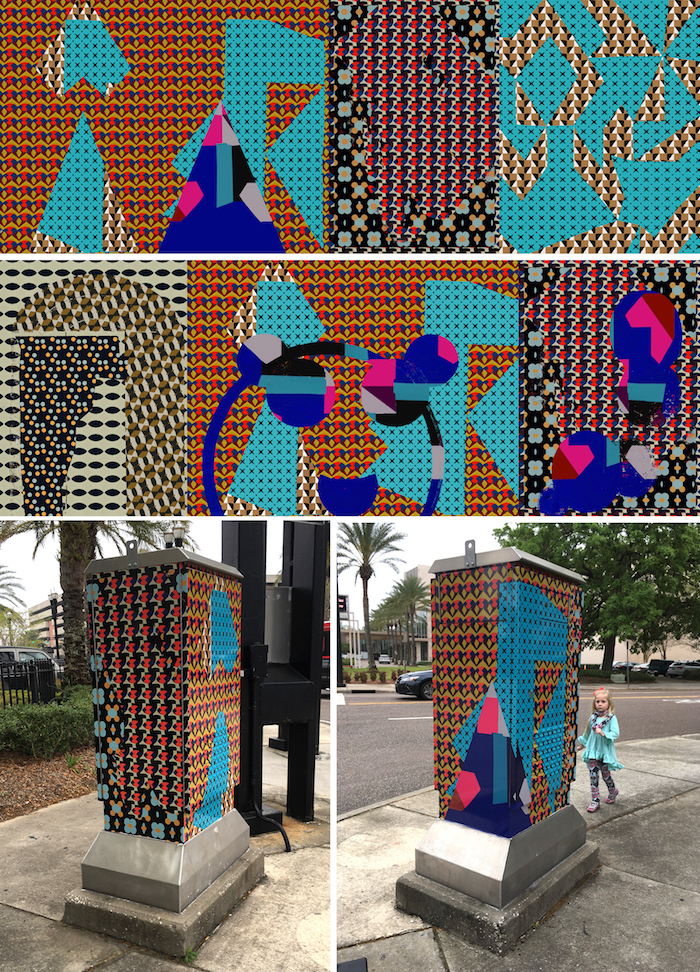 ---
Night and Day, Miami-Dade County Art in Public Places, 2015.  A terrazzo installation for Miami-Dade County's newly constructed Fire Station #64 in Miami Lakes. Terrazzo by David Allen Co.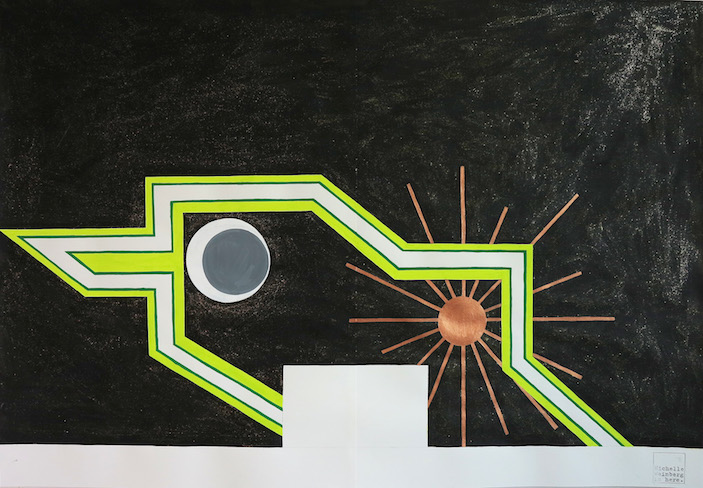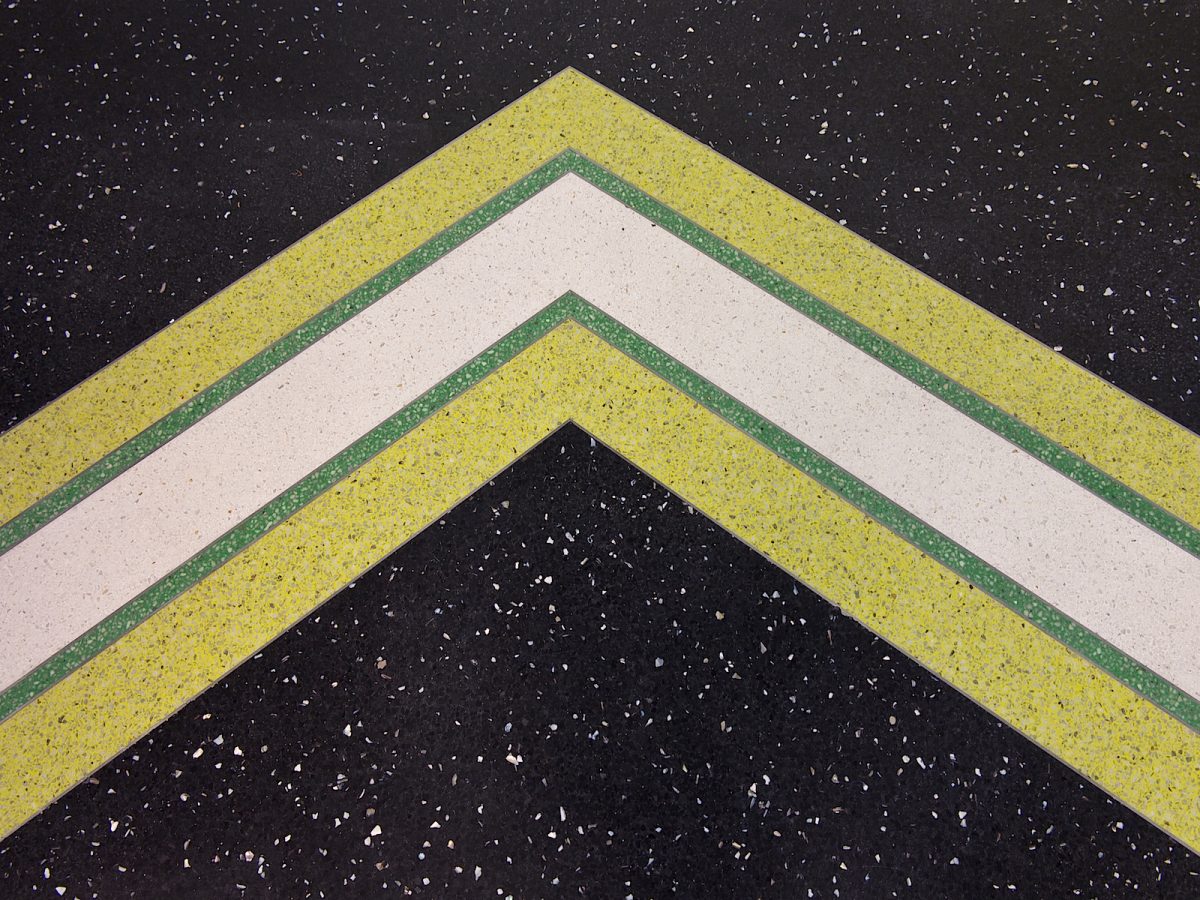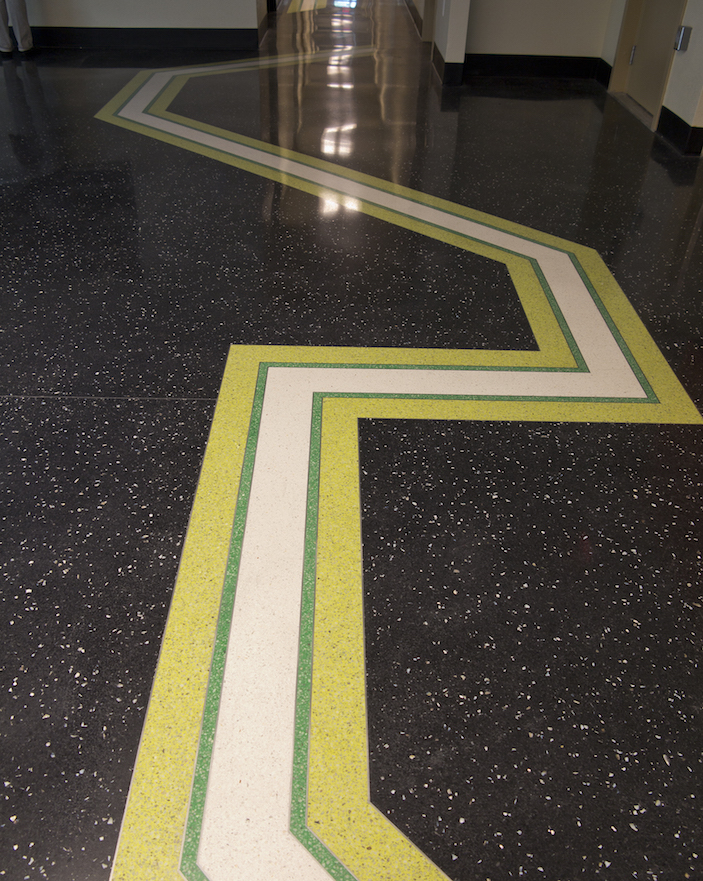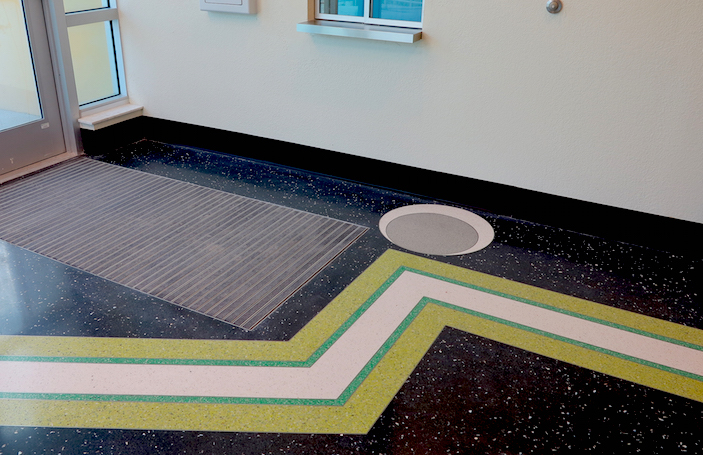 ---
Cutaway Layers 1 and 2, vinyl wraps for utility boxes in District 11, West Kendall, Miami, 2015
Commissioned by Miami-Dade County Art in Public Places. Fabrication and installation by All Digital USA.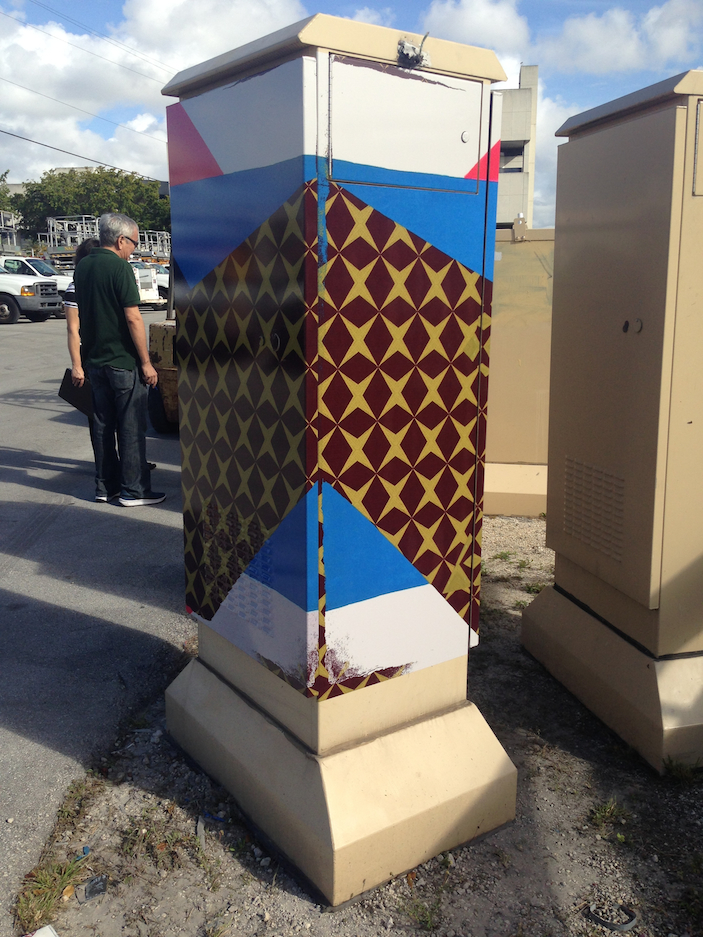 ---
Intricate Pattern Overlay, Wolfsonian Museum-FIU, Miami Beach, 2014. An exterior paint mural measuring 168′ x 24′, inspired by dazzle camouflage painting applied to warships during World War I. In conjunction with the exhibition, Myth and Machine: The First World War in Visual Culture.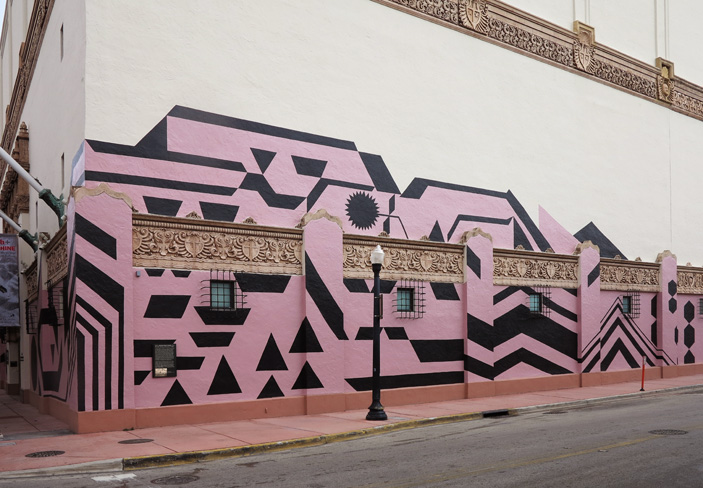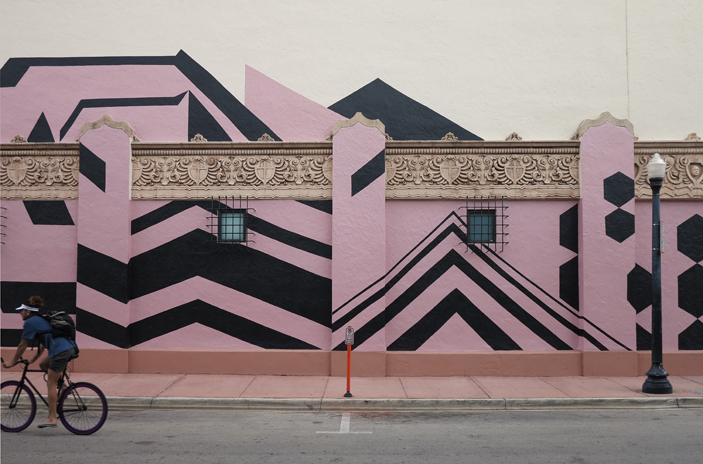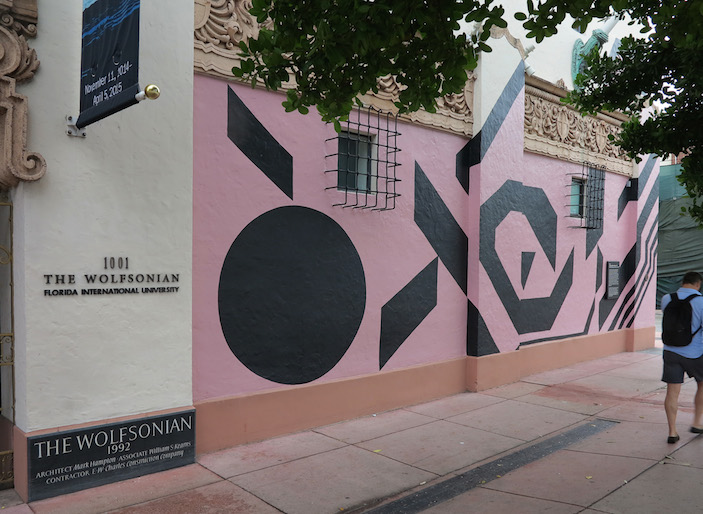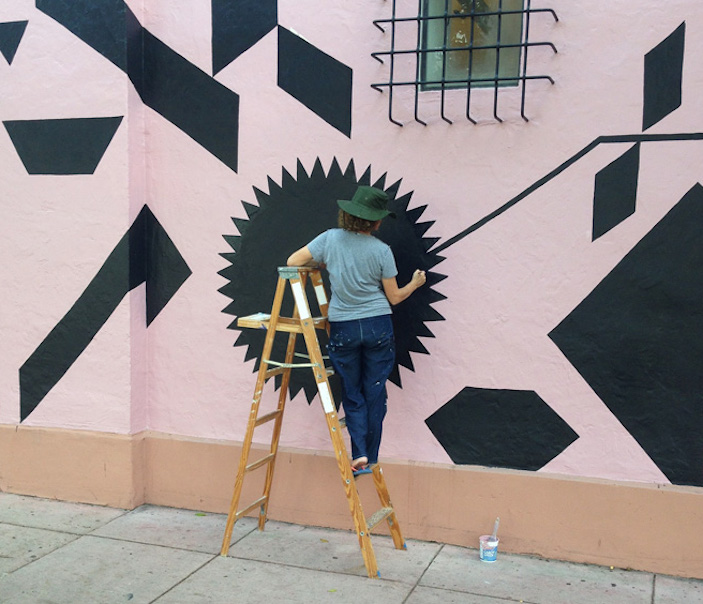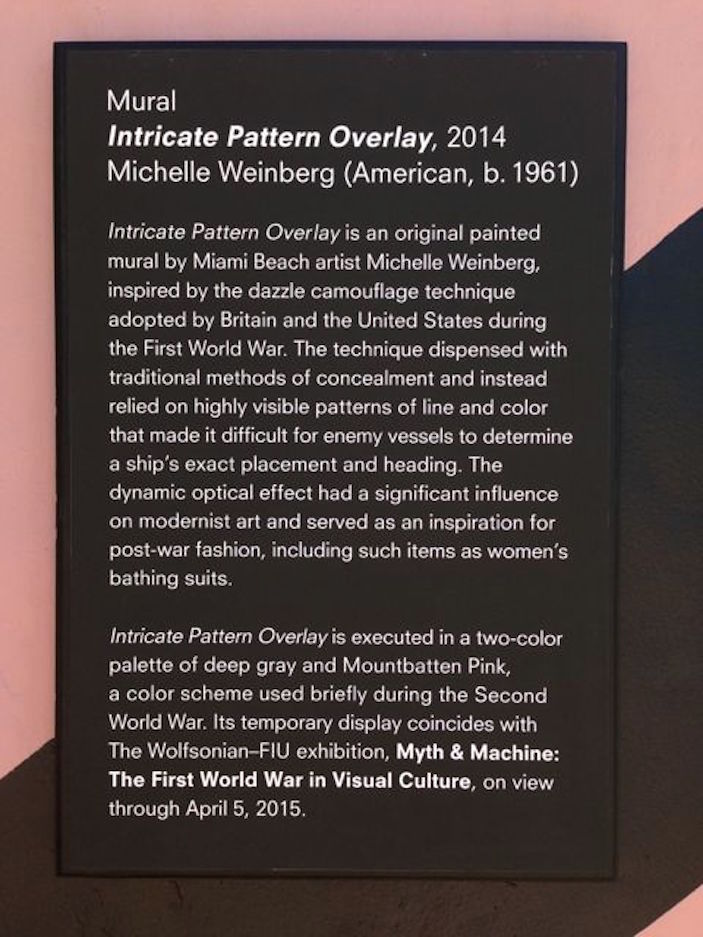 ---
Zack Street, Downtown Tampa, FL, 2012-2014. Sidewalks and crosswalks of three city blocks of Zack Street in downtown Tampa are the site of GroundCover/Dancesteps. Created with CityBrick, an FDOT-approved integrated colored coating system, the geometric blue/red and black/white motifs are applied in varied configurations. Hexagon/Dodecagon Suspensions are wall-mounted works fabricated of enamel on steel by Winsor Fireform. Sixteen discs are installed along the exterior garden wall of Tampa's LeMeridien Hotel, in a fantastic historic renovation of a century-old Federal Courthouse.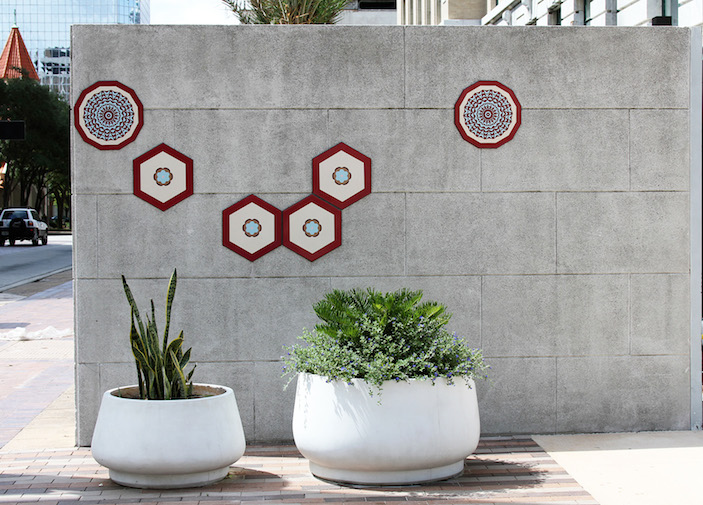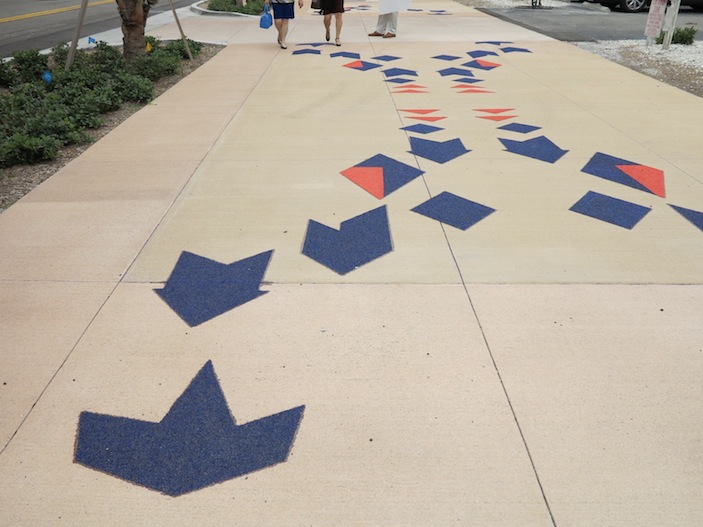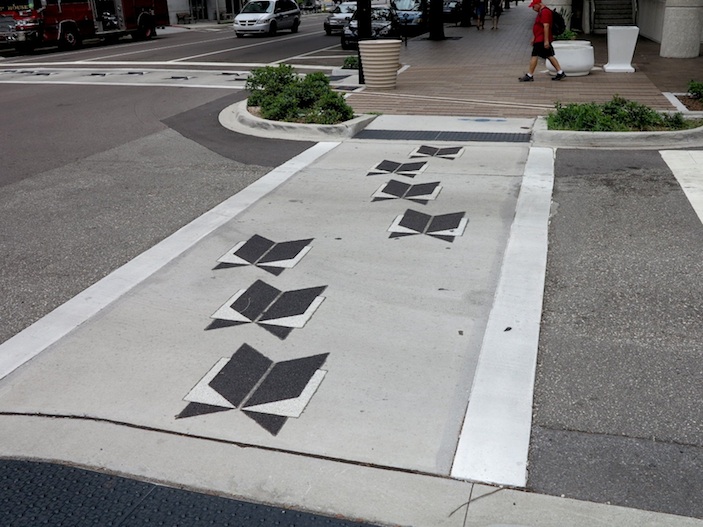 ---
Draw on My City, City of Hollywood, FL, 2013-14. Six sidewalks, sited in Beverly Park, Hollywood Lakes, Stan Goldman Memorial Park, Liberia, Playland Estates, and Boulevard Heights. Imagery inspired by young people's drawings solicited at community meetings. Mosaic fabricated by Miotto Mosaics in New York, water-jet cut porcelain tile letterforms assembled by Michelle Weinberg studio.
---
Oasis in Progress, exterior paint mural, City of Hollywood, FL, 2013
Downtown Hollywood Mural Project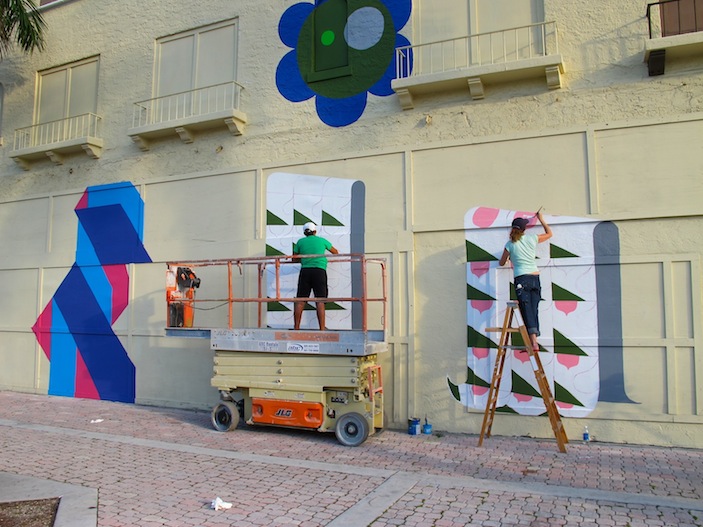 ---
Shelf Life, DuPont Building, downtown Miami, 2012. Storefront as devotional space. Sponsored by the Historic Alfred I. DuPont Building.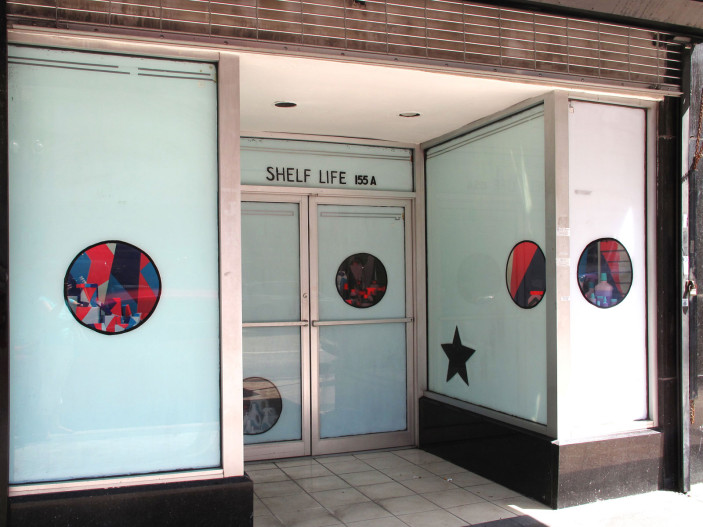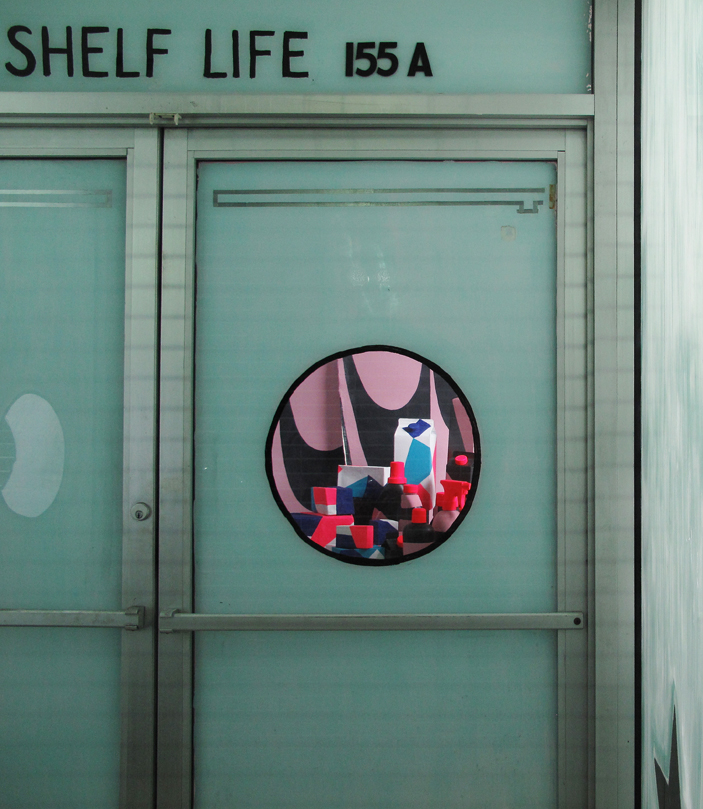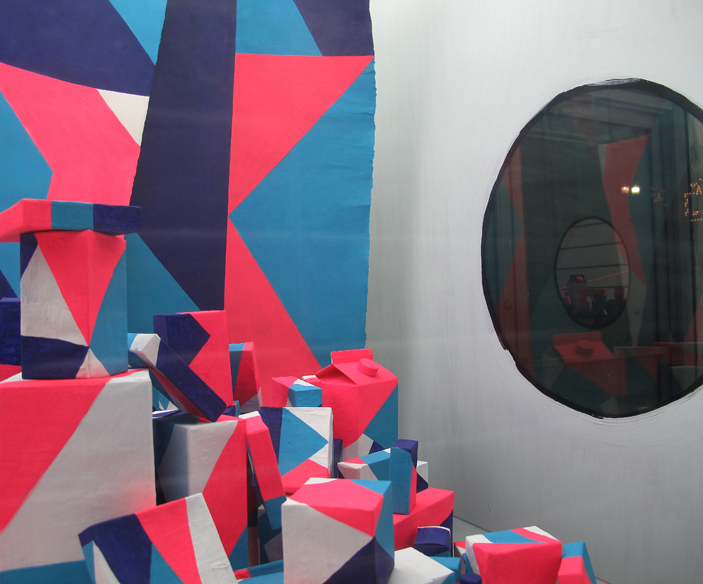 ---
Social Origami, Miami Art Museum Lobby, 2010. Paint mural for New Work Miami 2010 exhibition.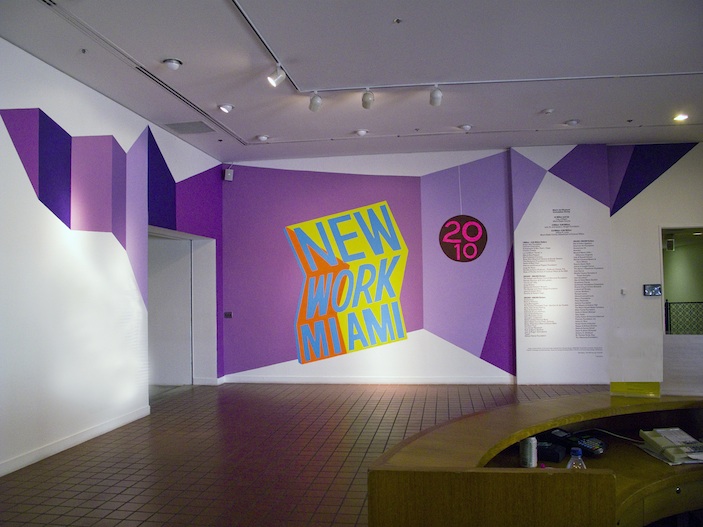 ---
Shadow Canopy, GSA TradeShops Facility, Miami-Dade County Art in Public Places, 2009-10. Miami-Dade County Art in Public Places commissioned Shadow Canopy, 3,000 sq ft of pigmented cement tile for the exterior of the County's newly constructed GSA Trade Shops facility. The 12″ tiles are hand-manufactured, one at a time, using a process developed in Europe in the 18th Century. Visit Cuban Tropical Tile for more info. Photos by Paul Clemence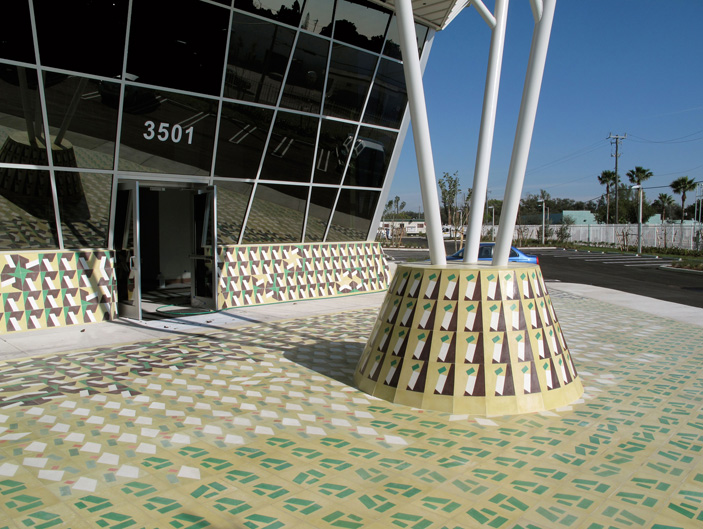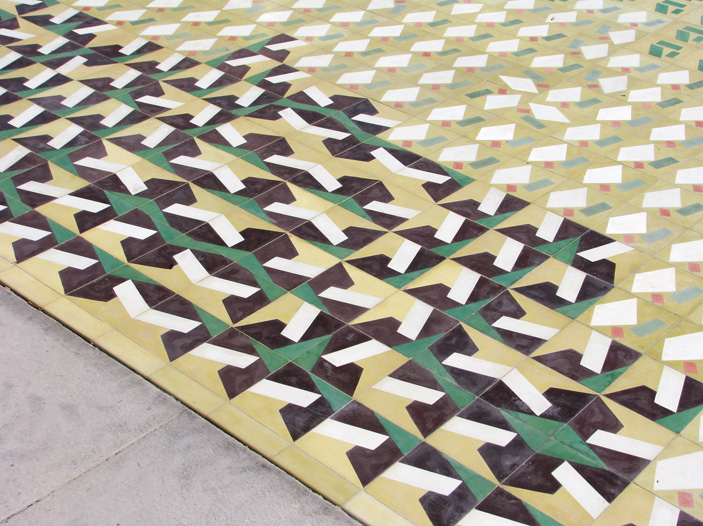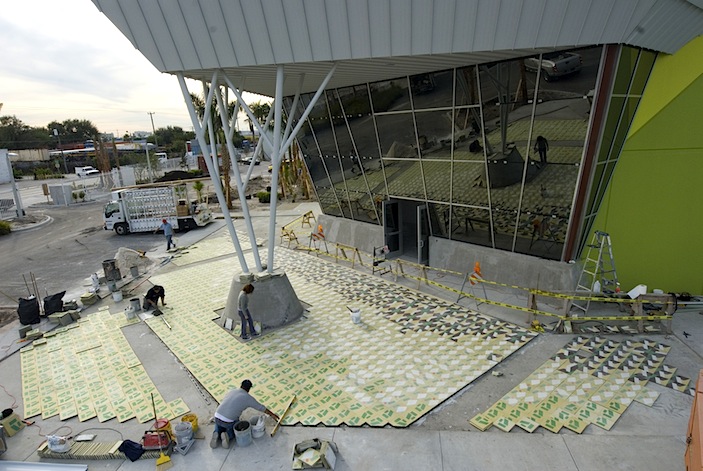 A 7′ x 14′ hand-knotted wool/silk rug is installed in the building's lobby. The design of the rug complements the exterior tile. Made in Nepal, it is Goodweave certified free of child labor. Rug production courtesy of InStyle Rugs, Toronto.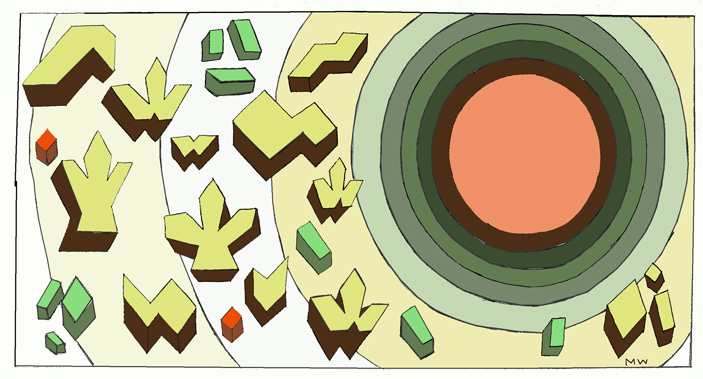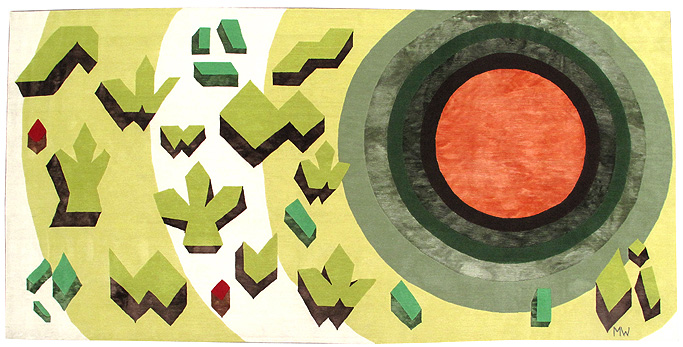 ---
Hand Painted Warehouse, Locust Projects, Miami, 2009. Using paint to camouflage a Miami alternative space, blending it with the vernacular of surrounding neighborhood warehouses.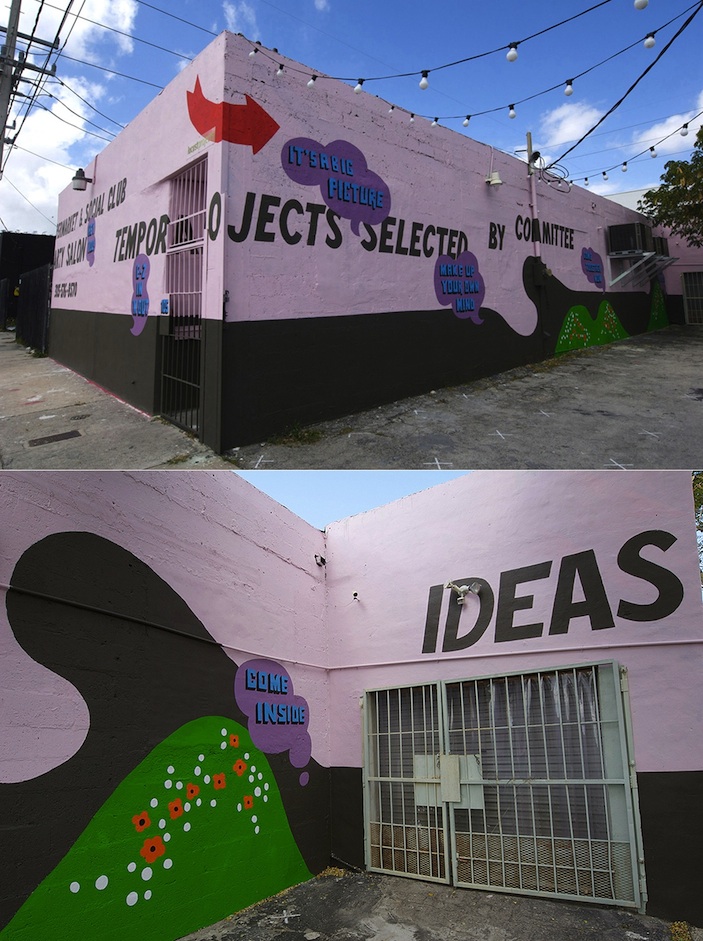 ---
Paseo, One Miami Riverwalk, downtown Miami, 2005.
8′ x 24′ exterior Venetian glass mural fabricated and installed by Miotto Mosaics, NY.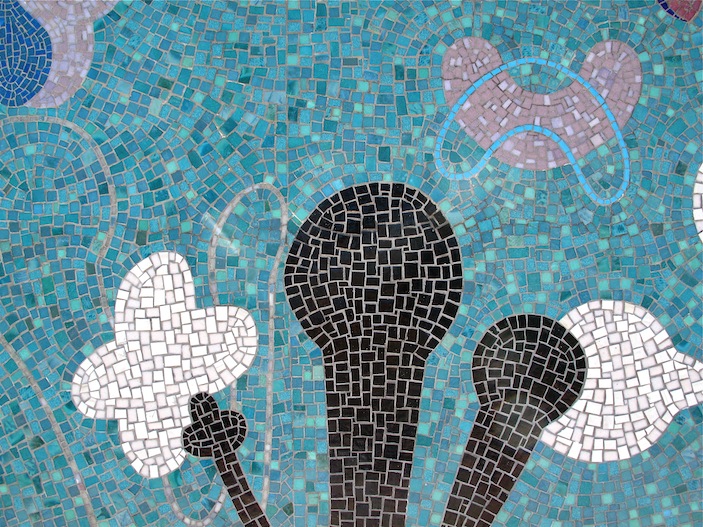 ---
Unswept Floor, maquette for Hollywood Arts Park, 2007. Marble and ceramic, inspired by ancient Roman unswept room mosaic.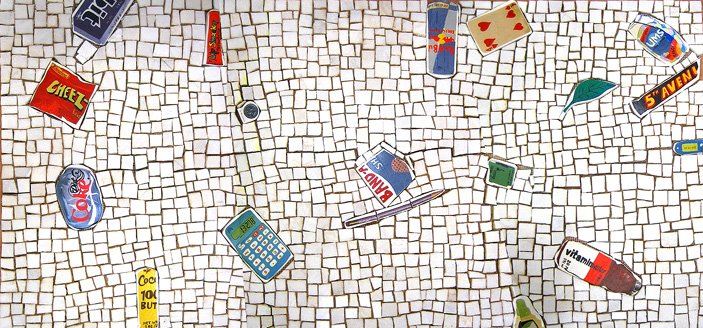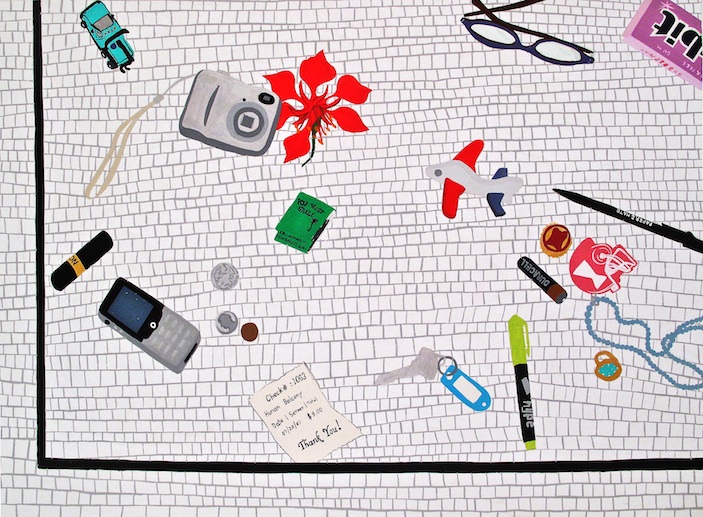 ---
Joy in a Bottle, Giants in the City, Miami, 2008. Thirty foot tall inflatable sculpture.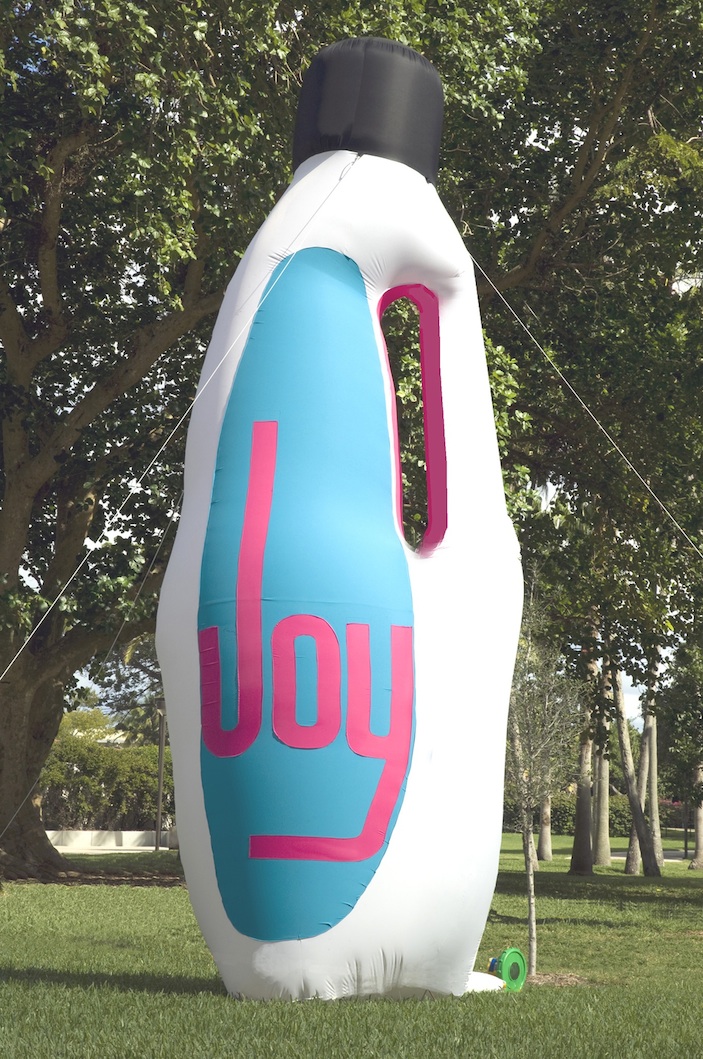 ---
Americana Estetica, Wolfsonian Museum Bridge-Tender's Hut, Miami Beach, 1999. Papier mache bottles of fictional beauty fluids installed in the Bridge-Tender's Hut on Washington Avenue, in conjunction with an exhibition of Kress five and dime stores. The Bridge Tender House is one of two stainless-steel structures in the Art Deco style that were placed at either end of the NW 27th Avenue Bridge on the Miami River with its reconstruction in 1938–39. Saved from demolition in the late 1980s, the structure currently resides outside the entrance to The Wolfsonian where it intermittently serves as a space for temporary art installations.