Delicious Line (May 2018)
read Amalia Caputo's review here.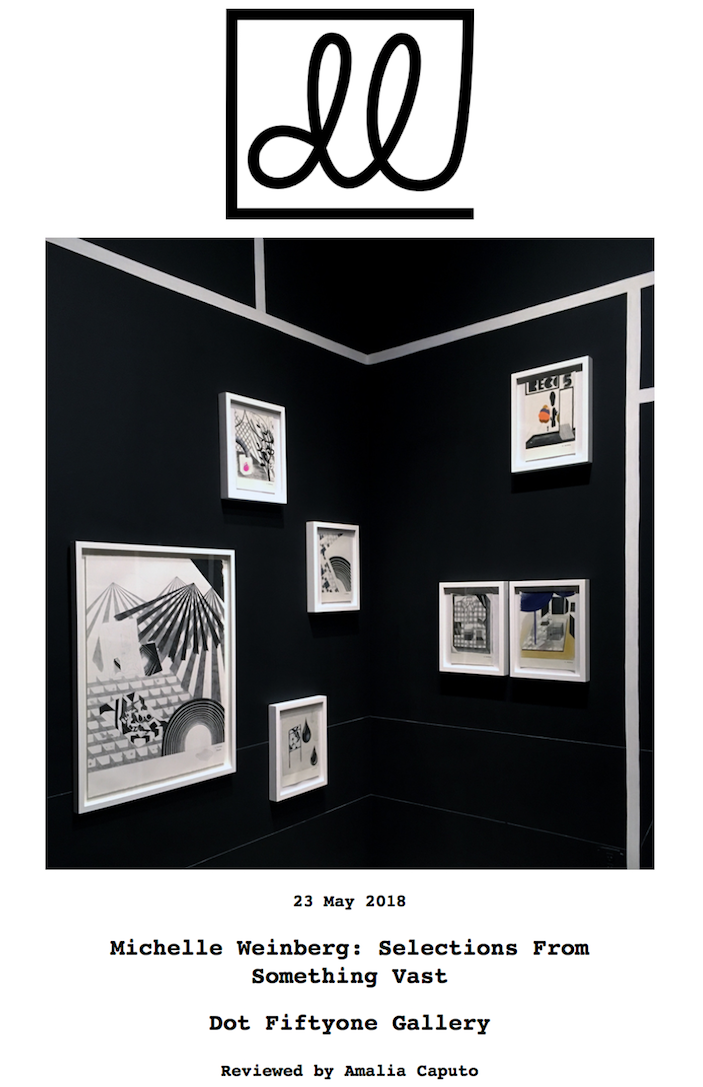 ---
El Nuevo Herald (August 2017)
Adriana Herrera, El poder creador de las artistas locales
---
Metropolis (June 2017)
Beth Dunlop identifies what makes Miami one of the World's Best Design Cities
---
luxe. magazine (May 2017)
read article online here
Color Crush, Nancy Ruhling
---
NY Post Alexa (April 2017)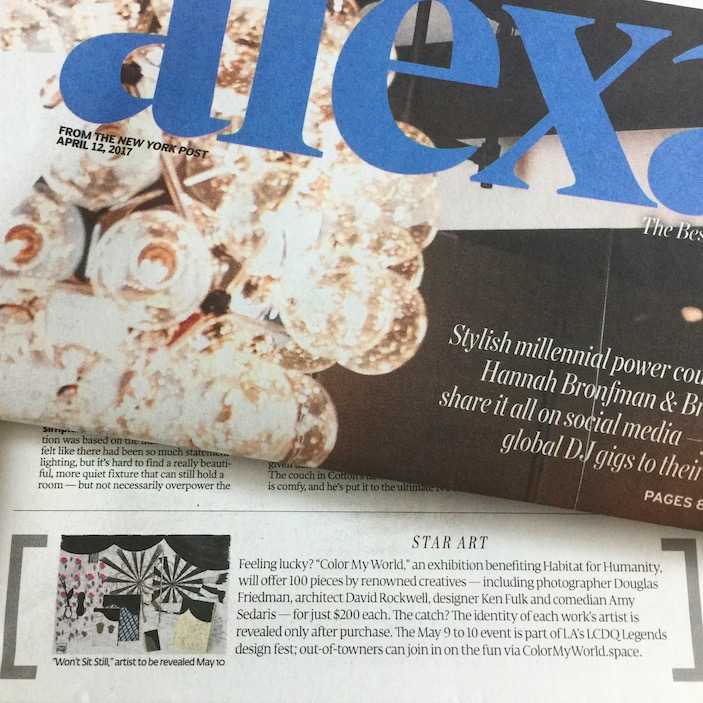 ---
SuperFine! In the Studio (Feb 2017)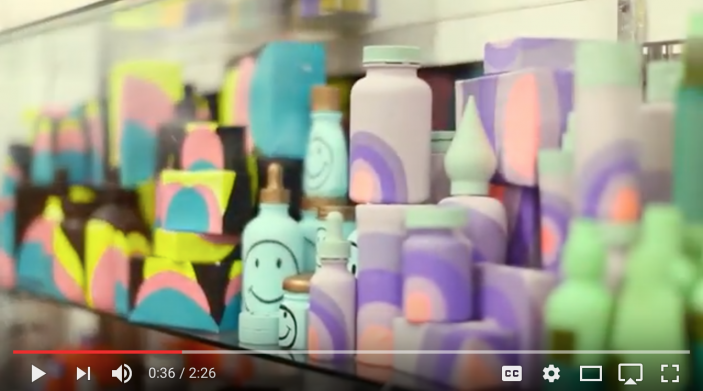 ---
MetalMagazine.eu (Dec 2016)
Michelle Weinberg: A Playful Preoccupation with Colour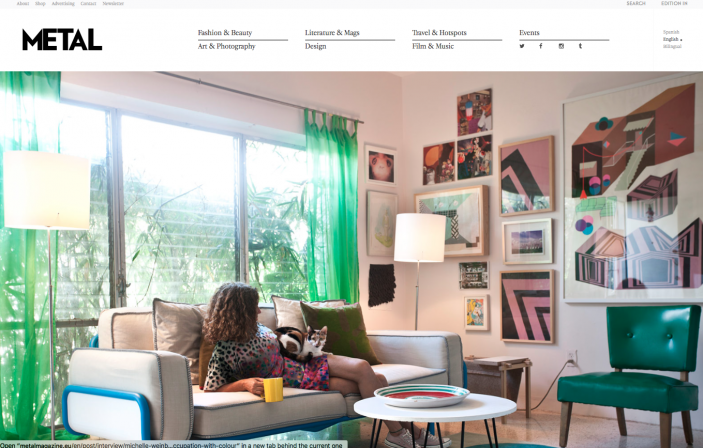 ---
young-space.com (Dec 2016)
Interview with Kate Mothes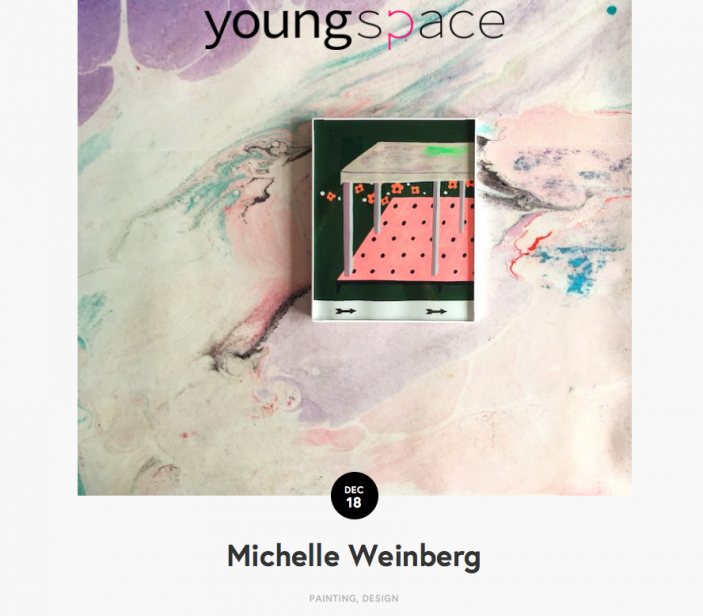 ---
LonnyMag (Dec 2016)
12 Must See Instagrams for Travelers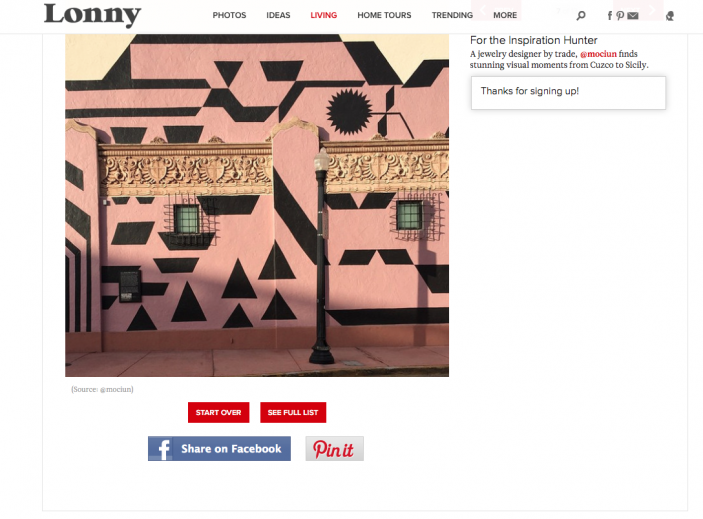 ---
Art Circuits (Dec 2016)
Design Comes of Age, Beth Dunlop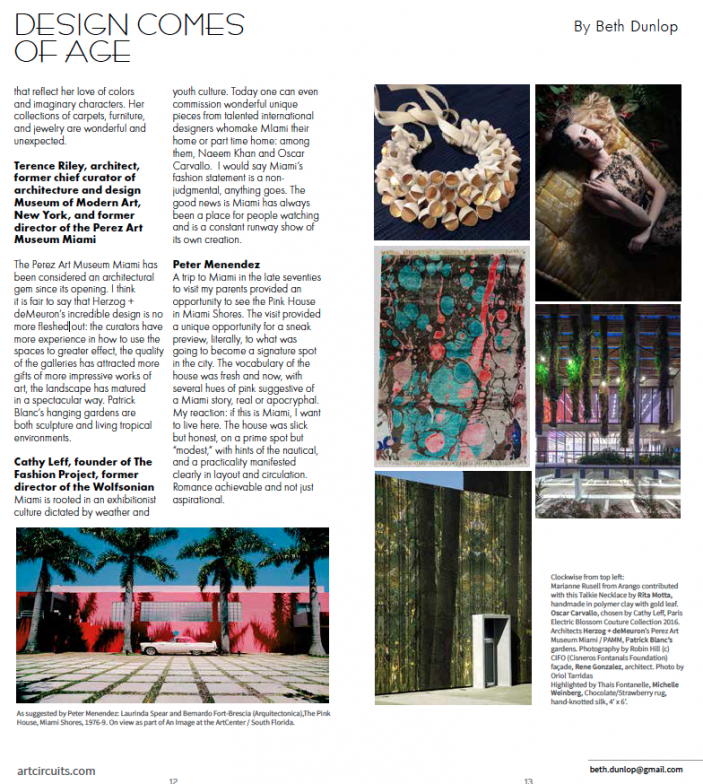 ---
Elle Decoration Thailand (Fall 2016)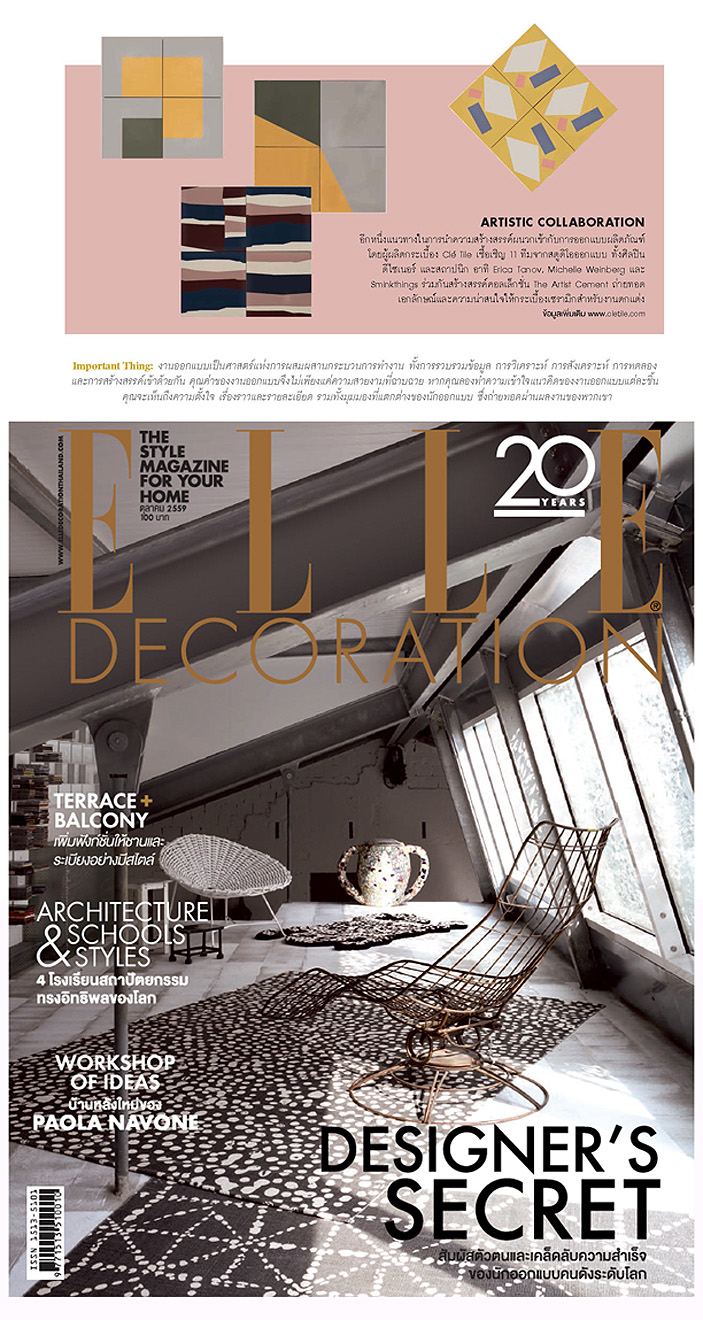 ---
Dazzle: Disguise and Disruption in War and Art, James Taylor (Fall 2016)
Published by Naval Institute Press, available on Amazon.com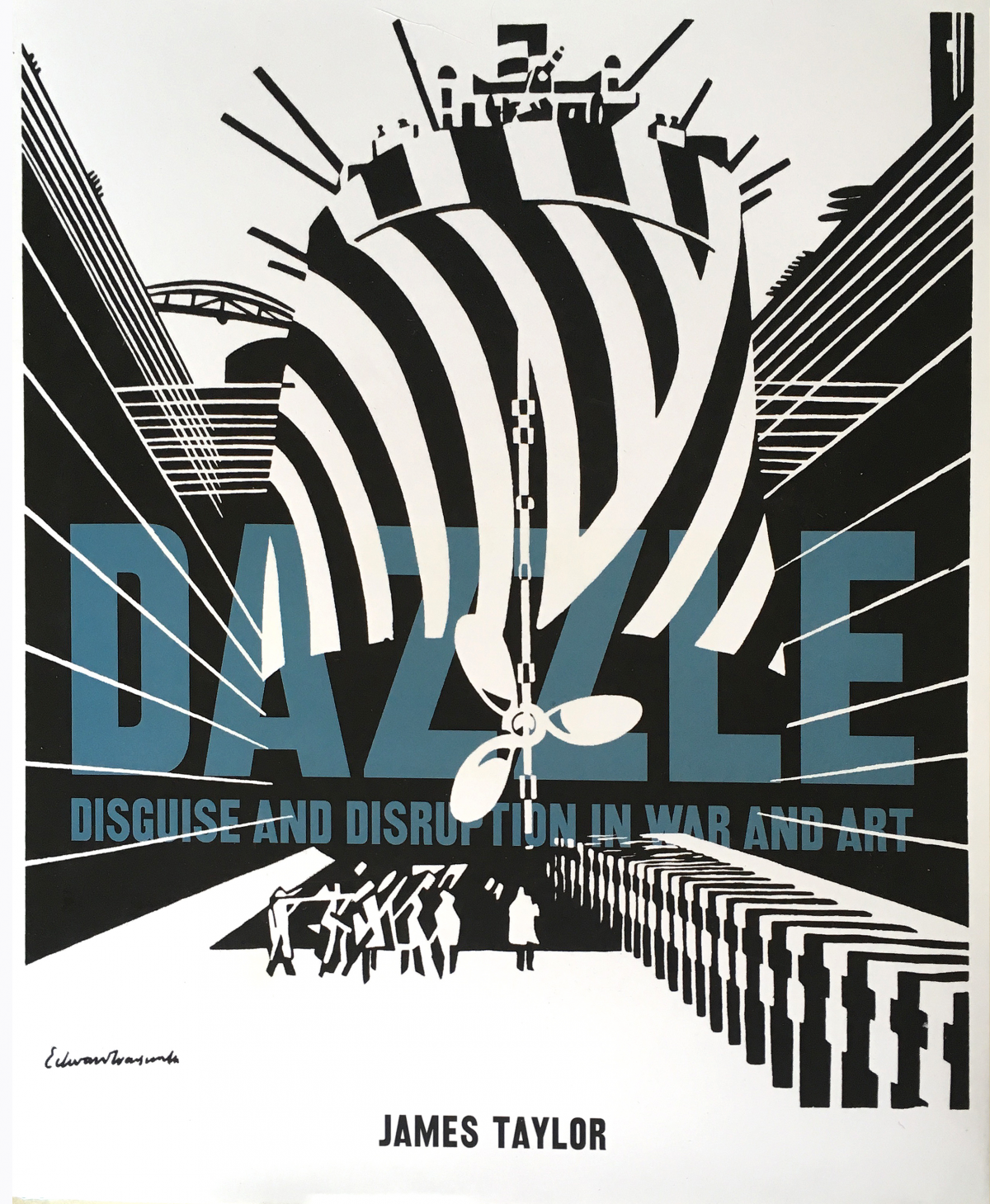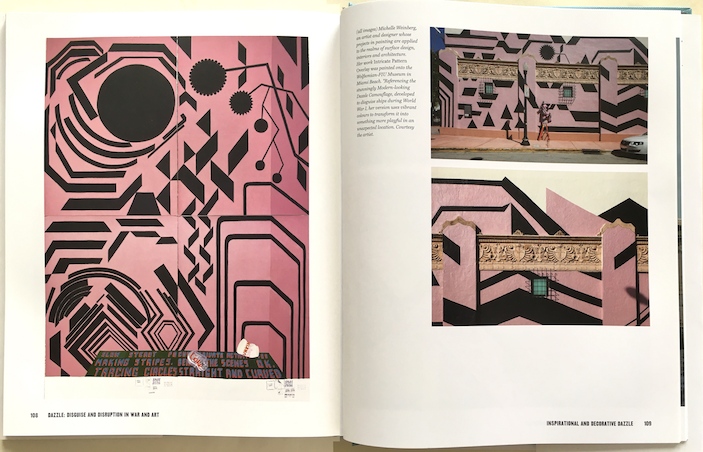 ---
livingspace (Oct 2016)
South African design magazine publishes my cement tiles on their inspiration page.
Shop for tiles at cletile.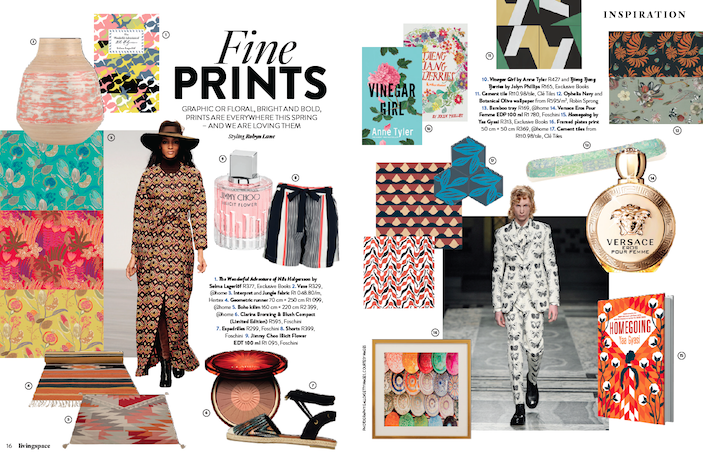 ---
Vogue Brazil (July 2016)
Fun House Exit featured in Suddenly Last Summer at the Frost Art Museum/FIU, curated by Adrienne Rose Gionta, reproduced in Vogue Brazil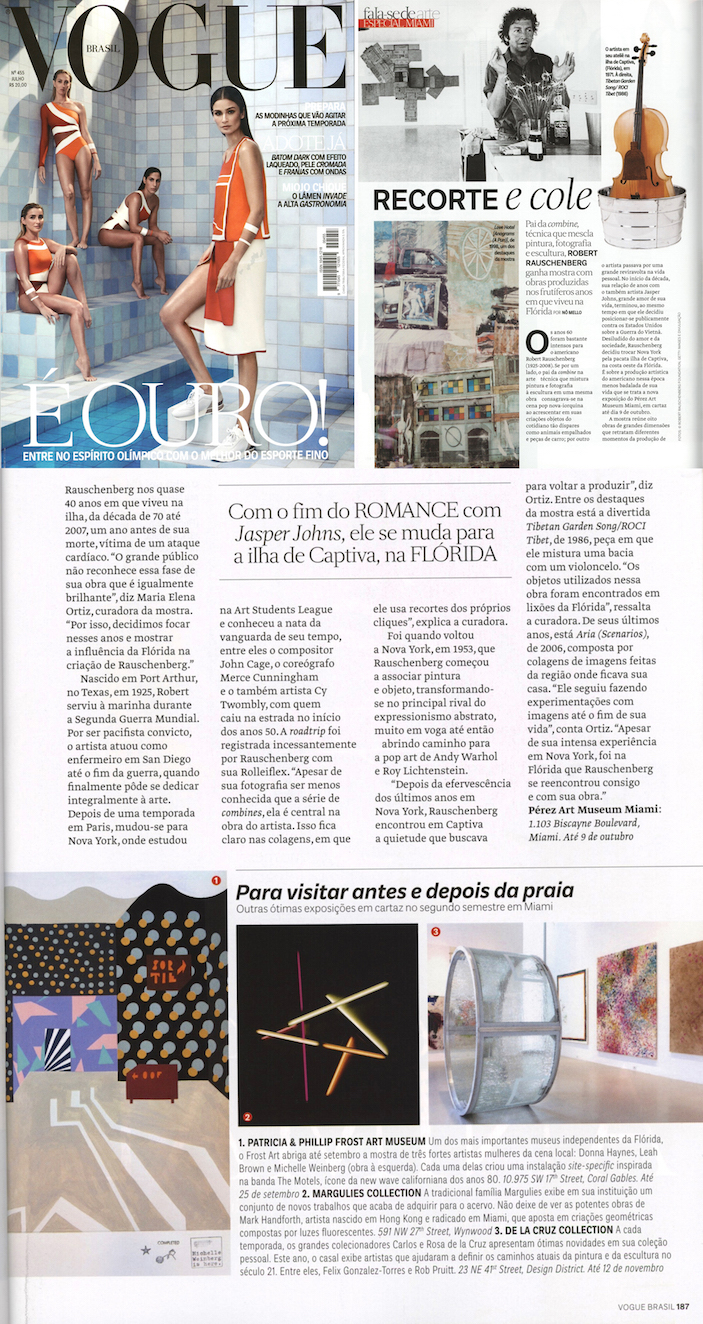 ---
Design-Milk (July 2016)
Clé Launches Artist-Designed Cement Tiles, Caroline Williamson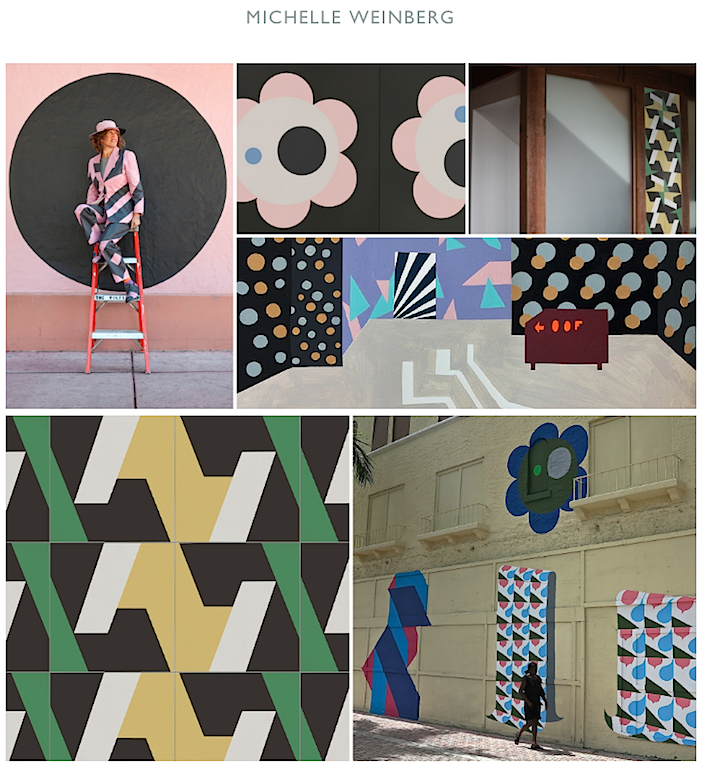 ---
Miami Herald (July 2016)
Women of Summer, George Fishman
---
Design Update (May 2016)
Home Decor by Michelle Weinberg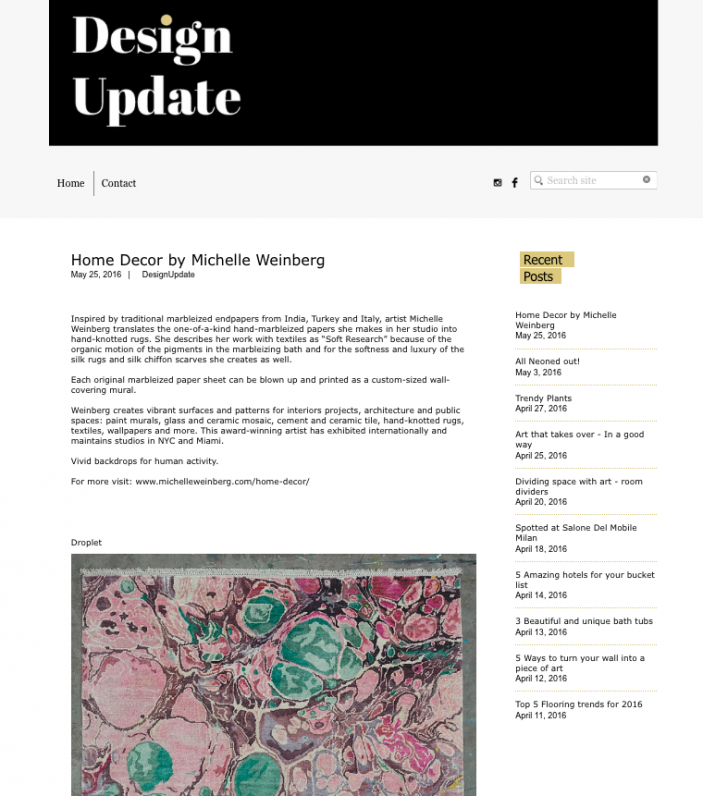 ---
Helen Miles Mosaics (Feb 2016)
The Unswept Floor mosaic: Ancient and Modern
---
Deco-Home/Germany (Jan 2016)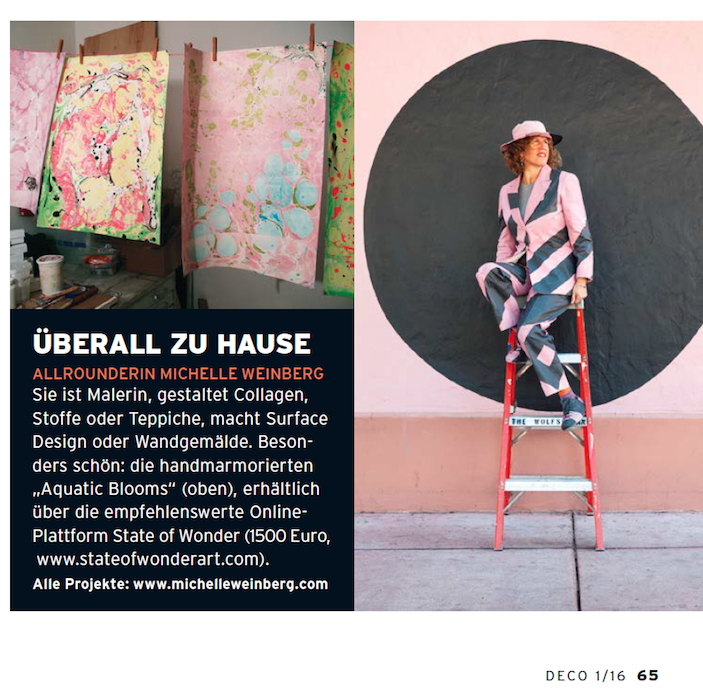 ---
TheChromologist, Michelle Weinberg's Passion for Painting Buildings, Ros Anderson (Oct 2015)
---
Tile Envy, Deborah Osborn (2015)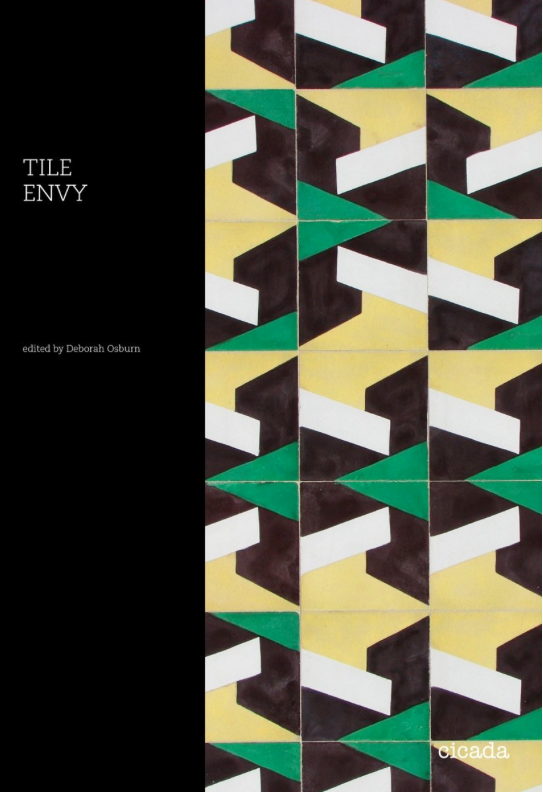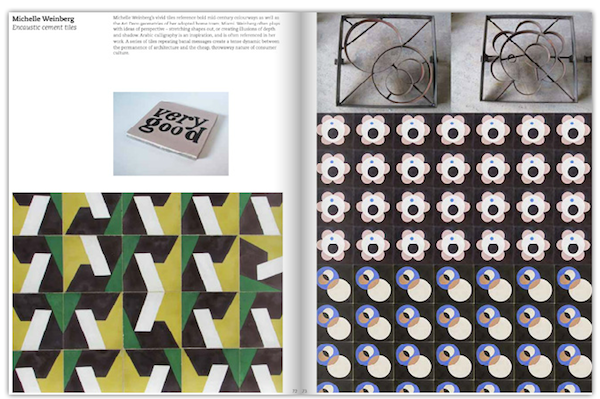 ---
Aesthetica, Interview with Inter-disciplinary Artist Michelle Weinberg, Erica Ando (August 2015)
---
The New Tropic, Women Making Street Art, Nicole Martinez (July 2015)
---
Hamptons Art Hub, Art to Notice While Beating the Cold in South Florida, Sandra Schulman (Feb 2015)
---
Miami New Times, Intricate Pattern Overlay (Dec 2014)
---
Provincetown Arts Magazine, "The Art Basel-Provincetown Connection", Raymond Elman (Summer 2014)
---
Louis Vuitton 2014 Miami City Guide, Craft and Expertise (Jan 2014)
---
Lost at E Minor, "Shape Shifting Rug Designed by Michelle Weinberg" (Mar 2013)
---
Design Bureau magazine, "Global Census", Lauren Smith (May 2013)
---
DesignBlog, Stedelijk Design Show 2013 – Proposed Highlights (April 2013)
---
Elle Decoration Thailand,"Rug Art", Supitcha Tovovich (Feb 2013)
---
Cover magazine, "Irregular Rugs", (Autumn 2012)
---
Tropicult.com, "Catching up with Michelle Weinberg: Shelf Life and Inventory Archive", Stef Vidal (Nov 2012)
---
Design*Sponge.com, "Sneak Peek: Michelle Weinberg + Brian Fatih", Anne Ditmeyer (Nov 2012)
---
Design-Milk.com, "Art and Rugs by Michelle Weinberg", Jaime Derringer (Nov 2012)
---
WorldArchitectureNews.com, "Paul Clemence Interviews Michelle Weinberg" (June 2012)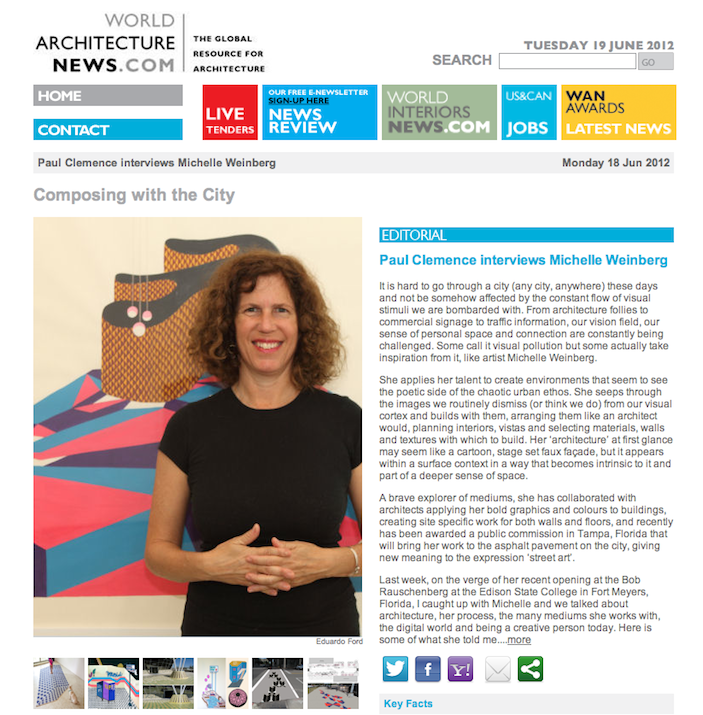 ---
El Nuevo Herald, "Michelle Weinberg: La dimension pretendida." Janet Batet (May 2012)
---
KnightArts Blog, "What Shapes Our Space", Anne Tschida (May 2012)
---
Florida Weekly, Fort Meyers, "Imaginary Street Scenes", Nancy Stetson (May 2012)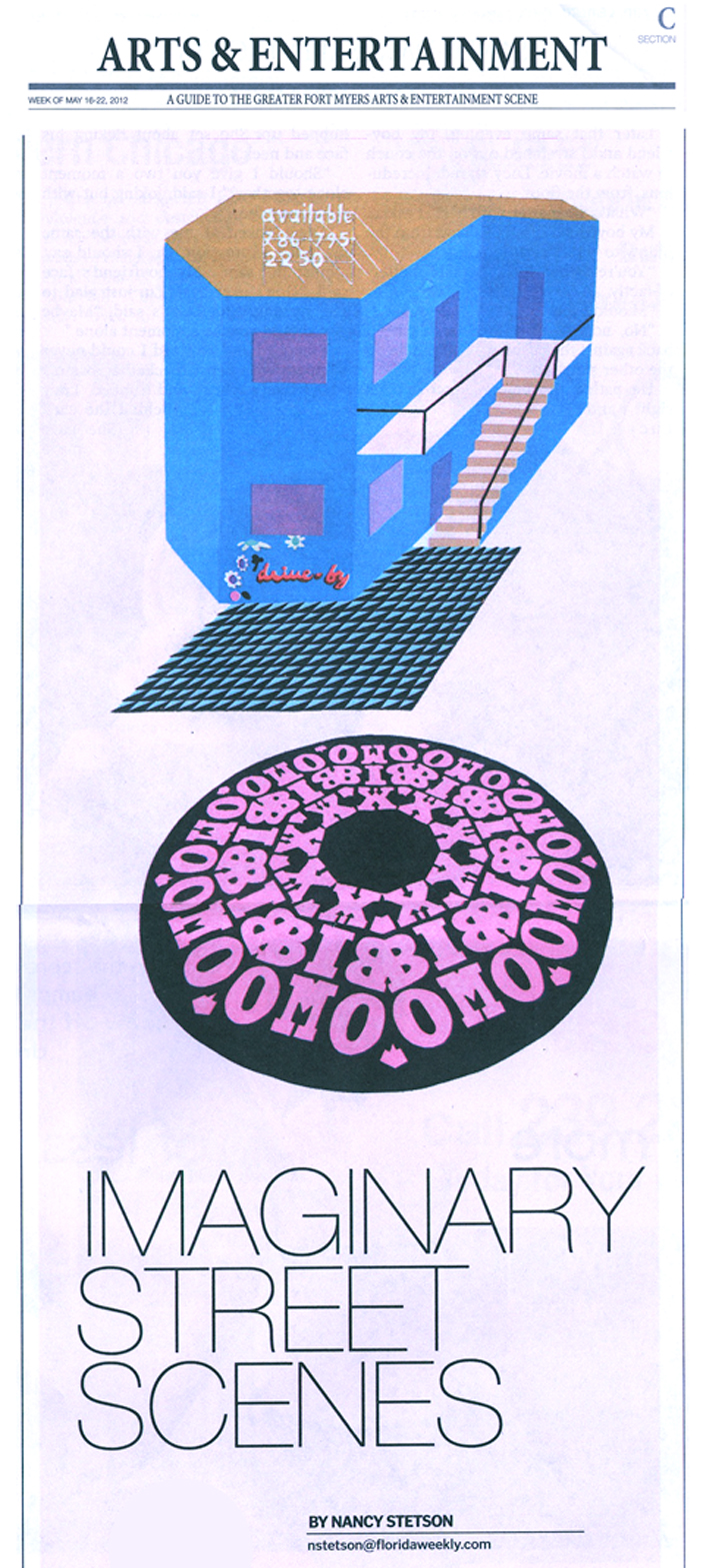 ---
MetropolisMag.com, "Welcome to Miami", Paul Clemence (Nov 2011)
---
The New York Times, "10 Young Upstarts Strut Their Stuff in Miami", Linda Lee (Nov 2011)
---
The Miami Herald, "Thinkers and makers", Beth Dunlop (Feb 2011)
---
KnightArts Blog, "Escape This Room – or don't", Anne Tschida (Feb 2011)
---
The Miami Herald, "An exhibition at ArtCenter/South Florida offers a tantalizing sample of new public art projects", Beth Dunlop (Feb 2011)
---
El Nuevo Herald, "Art, Everyday Life and Virtual Worlds", Janet Batet (Jan 2011)
read translation to English here.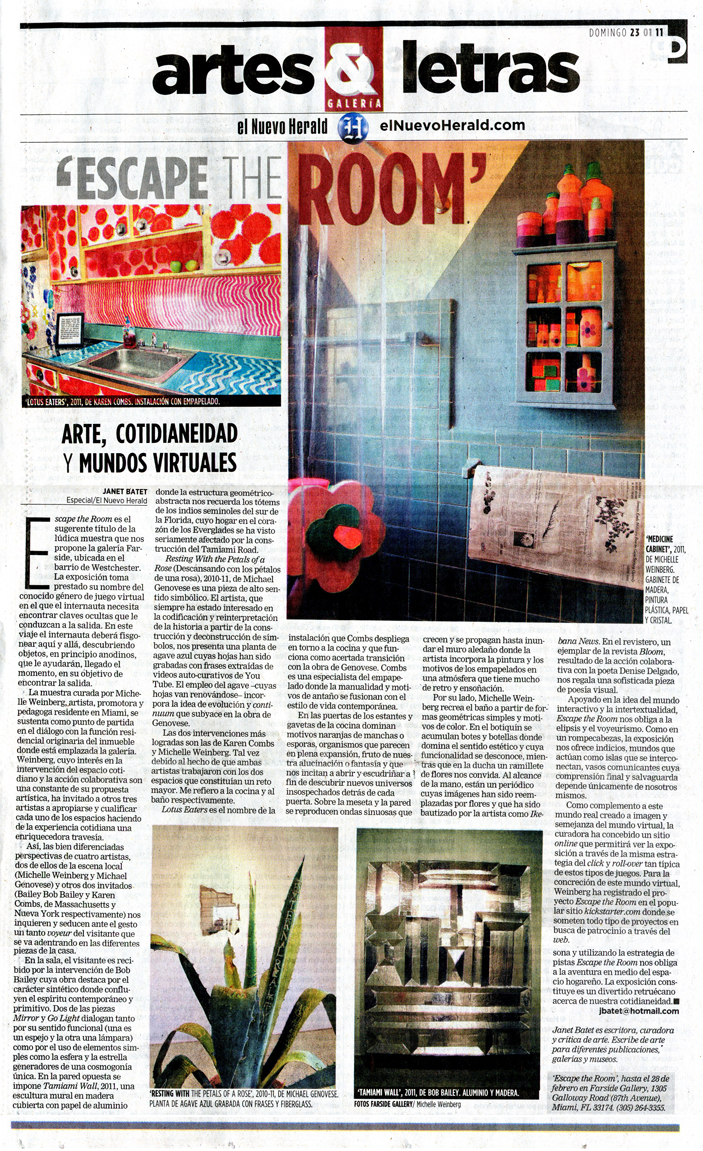 ---
KnightArts Blog, "Michelle Weinberg: An Interview with an Unusual Suspect", Neil de la Flor (Jan 2011)
---
CityLink, "Show Starters: Bringing Art to Vacant Spaces", Colleen Dougher, (Jan 2011)
---
Icon magazine, UK (Jan 2011)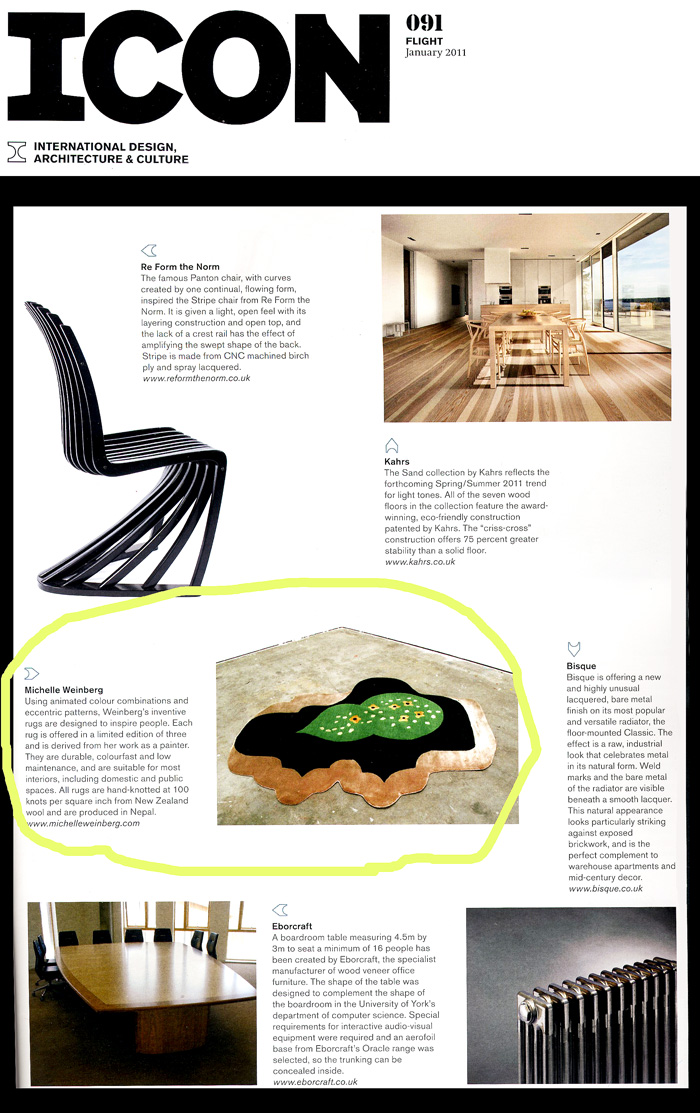 ---
Miami Modern Luxury (Sept/Oct 2010)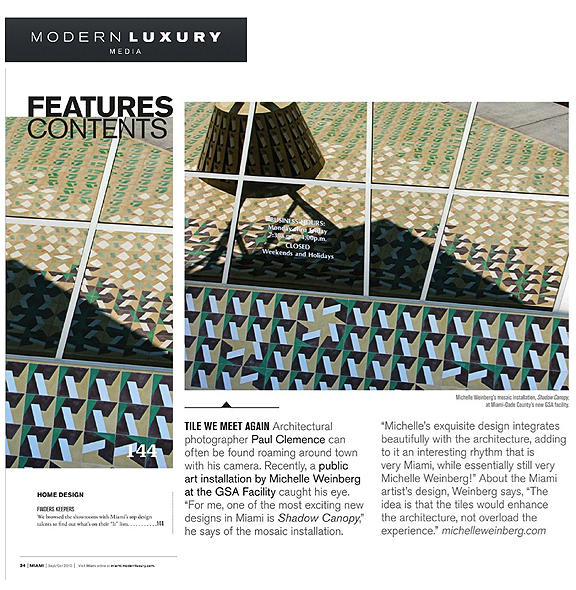 ---
Artist Felice Grodin interview for Roaming by Design, a blog by Saxon Henry (August 2010)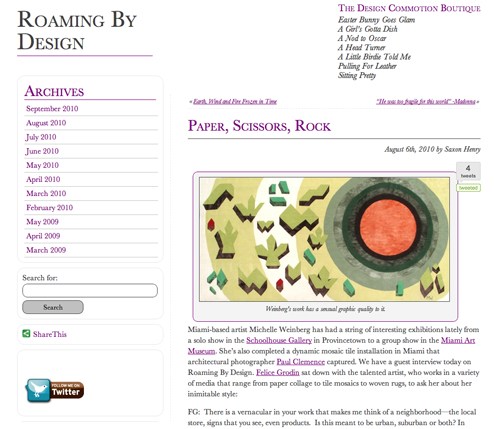 ---
Michael Mills writes for Broward/Palm Beach New Times (May 2010)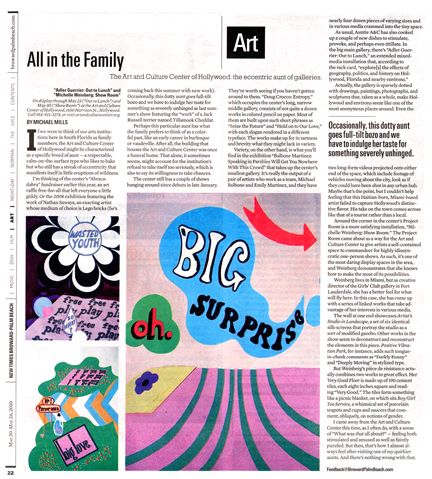 ---
Colleen Dougher writes for Fort Lauderdale CityLink (April 2010)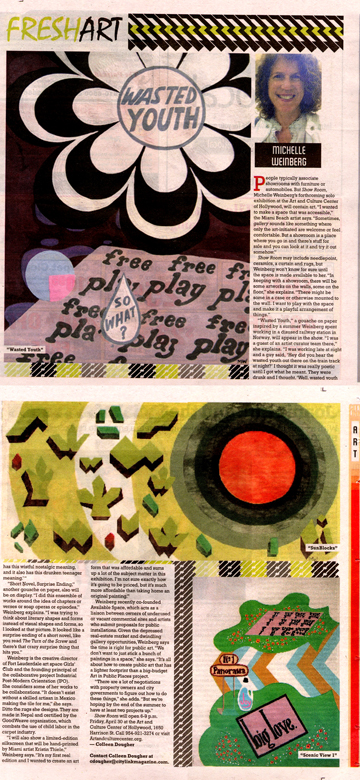 ---
Gae Savannah writes for Flash Art online (Jan 2010)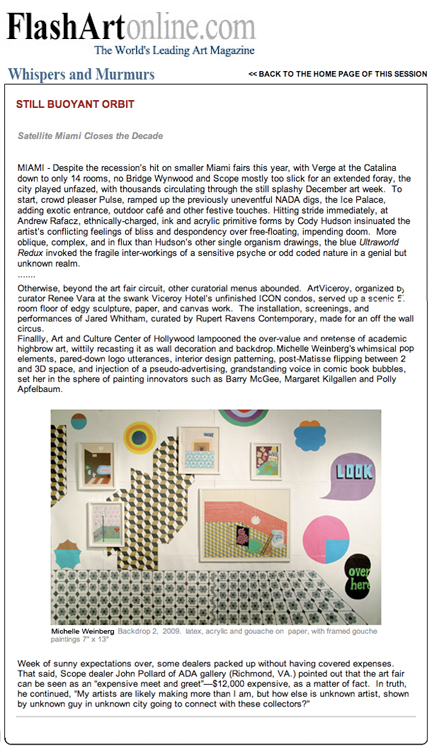 ---
HOME Fort Lauderdale (Dec 2009/Jan 2010)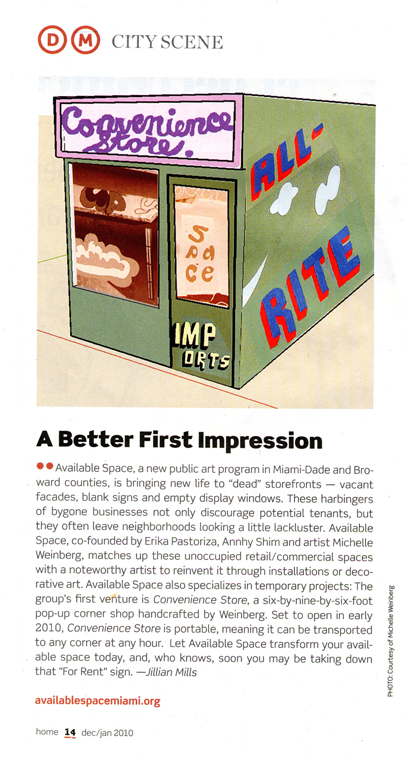 ---
Jaerbladet, Norway (July 2009)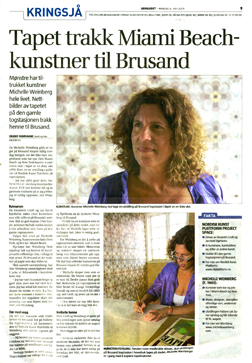 ---
Stavanger Aftenblad, Norway (July 2009)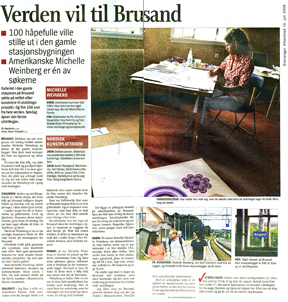 ---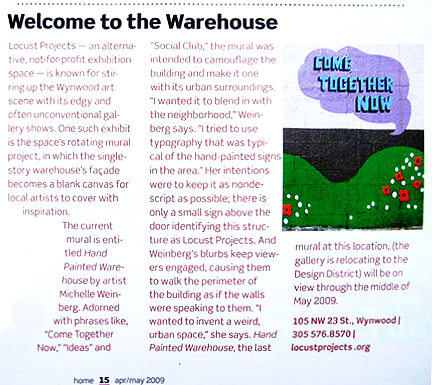 ---
IRREVERSIBLE magazine (Spring 2009)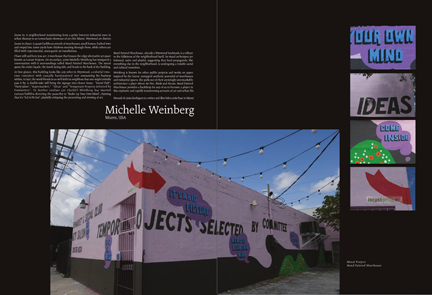 Talking Building: Michelle Weinberg's Hand Painted Warehouse
by Dinorah de Jesus Rodriguez
From a vantage point far out on Google Earth: The perspiring pastel city of Miami.
Zoom in: A neighborhood transitioning from a gritty, low-rent industrial zone in urban disarray?to an iconoclastic showcase of art chic.
Zoom in closer: A quasi-Caribbean stretch of warehouses, small homes, barbed wire and empty lots. Some yards have chickens running through them, while others are filled with experimental, avant-garde art installations.
Closer still and here you are: A warehouse that houses the edgy alternative art space known as Locust Projects. On its surface, artist Michelle Weinberg has instigated a conversation with it surroundings called Hand Painted Warehouse. The mural spans the entire façade, the South facing side, and heads to the back of the building.
At first glance, this building looks like any other in Wynwood, a colorful two-tone container with casually hand-painted text announcing the business within. In fact, the work blends in so well with its neighbors that one might initially pass it by. A double-take will bring the signage into clearer focus:  "Social Club", "Party Salon", "Supermarket,"  "Ideas" and "Temporary Projects Selected by Committee".  To further confuse (or clarify?) Weinberg has inserted cartoon bubbles directing the passerby to "Make up Your Own Mind", claiming that it's "E-Z In'N Out", playfully critiquing the presenting and viewing of art.
Hand Painted Warehouse, already a Wynwood landmark, is a tribute to the folksiness of the neighborhood itself. Its visual archetypes are informal, naive and playful, suggesting that local propaganda, like everything else in the neighborhood, is undergoing a volatile social and cultural transition.
Weinberg is known for other public projects and works on paper inspired by the latent, untapped aesthetic potential of warehouses and industrial spaces. She pulls out of their seemingly unremarkable architecture a place where we live, think and dream. Hand Painted Warehouse provides a backdrop for any of us to become a player in this explosive and rapidly transforming scenario of art and urban life.
(Dinorah de Jesus Rodriguez is a writer and film/video artist in Miami. Visit www.solislandmediaworks.com for more on her work.)
---
Miami Art Guide (Dec 2008)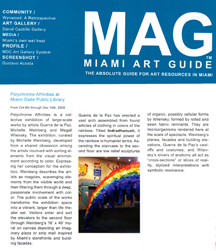 ---
Alfredo Triff review writes in El Nuevo Herald (May 2008)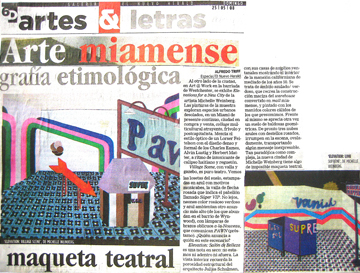 Translation: "Miami Art: Graphic, Etymologic Theatre Set"?
Sunday May 25, 2008
At the other side of town, Art@Work in Westchester exhibits "Elevations for a New City", by the artist Michelle Weinberg. The paintings in the exhibition explore desolate urban spaces, in a Miami of the continuous present, a city of "buy and sell", a compelling multicultural collage, frivolous and post-capitalist. Mixing the visual style of a Lorser Feitelson with the dense, formal design of Charles Eames, Alvin Lustig and Herbert Matter, these works move to the intoxicating beat of Haitian calypso and reggaeton.
Village scene, with its hurdle and gazebo, is pure theater. The tiles on the floor are stamped in blue with Mozarabic motifs, the arrow-shaped hurdle points to the pavilion labeled SUPER VIP. Nearby, neon red, green and blue hues direct us to another advertisement higher up (like the billboards that populate the Wynwood neighborhood), with its oblique-armed lamps a la Nouveau illuminating the word PAWN. Who's advertising to whom in this scenario?
Elevation: Salon de Belleza is more ambiguous: we are neither inside nor outside. The interior view recalls the structural porousness of the architectural photographer Julius Schulman, with houses characterized by grand windows framing the interior of the 50s era California mansion. It depicts a bluish/greenish environment typical of the conversion of a massive warehouse to a Miami strip mall, painted with the over-ripe, heated-up colors that we are notorious for. In front of this same structure, once again we see a floor of geometric tiles. Suddenly three blue clouds with pink-stared centers erupt onto the scene, their oval shapes transmitting some inexpressible message. As paradoxical as it is complex, the new city invented by Michelle Weinberg,? a surreal theatre set.
---
Miami Art Guide (Mar/Apr 2008)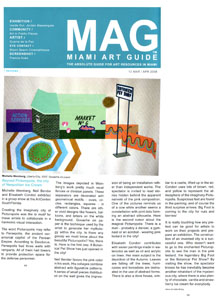 ---
New York Times review of Avant Gallery.
(June 2008)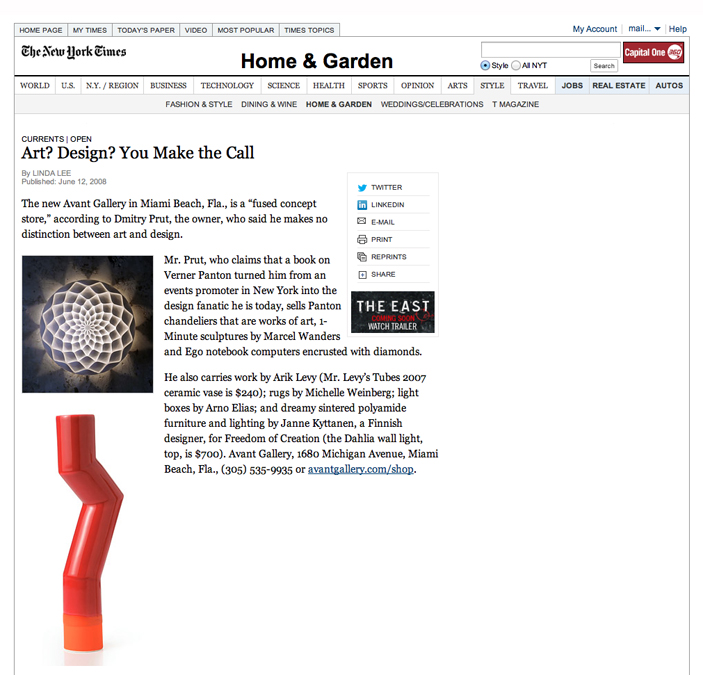 ---
Miami Herald Home & Design Magazine cover (Sept 2007)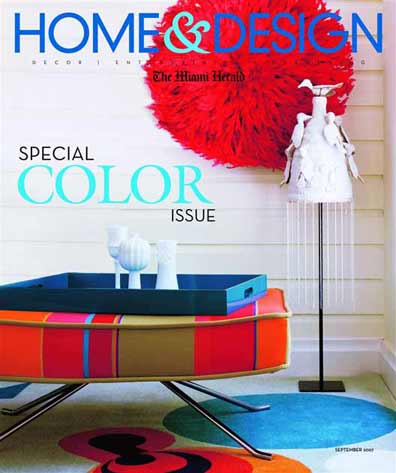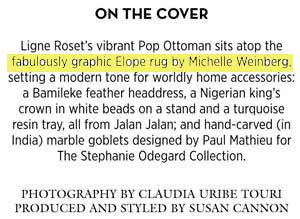 ---
The Miami Herald Home & Design magazine (May 2007)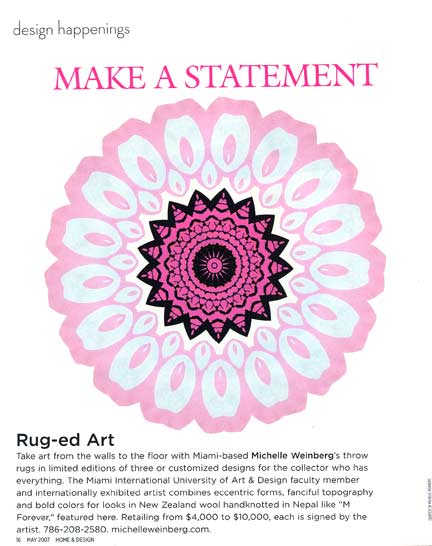 ---
Michael Carroll writes for Provincetown Arts (Summer 2006)