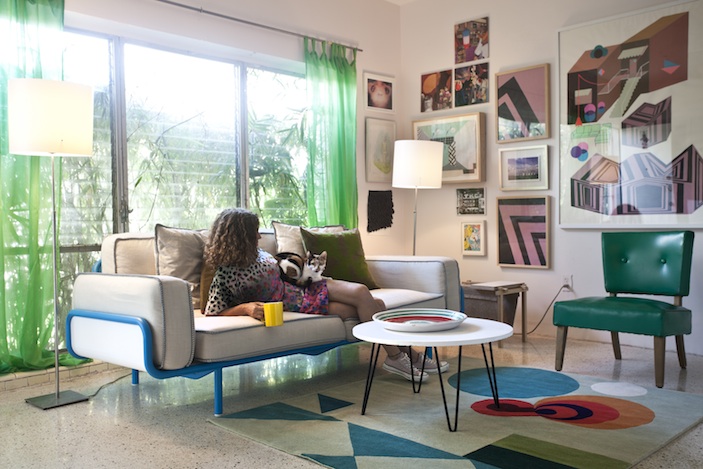 Michelle Weinberg is a visual artist living and working in New York City and Miami.
She creates works in painting and collage, designs rugs, tiles, mosaic and paint murals, and produces art for architecture and public spaces. Her imagery inhabits a "Pretend Dimension" in which elastic perspectives, personalized geometries, and fictitious architectures elaborate stage-set like narratives. Her works in all media are conceived as vivid backdrops for human activity.
Weinberg is the recipient of fellowships and residencies, including a 2017 Lower Manhattan Cultural Council Creative Learning Grant, a 2016 Pollock Krasner Foundation Award, a Wavemaker Grant from CannonballMiami, MacDowell Colony, Millay Colony, homesession and Fundacion Valparaiso, both in Spain, Tigertail Artist Access Grants, an Artist Enhancement Grant and an Individual Artist Fellowship from the State of Florida, a South Florida Cultural Consortium Fellowship in Visual and Media Art, a FIVA Fellowship from the National Foundation for Advancement in the Arts, a Visual Arts fellowship from the Fine Arts Work Center in Provincetown, and Altos de Chavon in the Dominican Republic, among others.
Exhibitions include design sublime, Dorsch Gallery and Farside Gallery in Miami, Cyan Gallery in Barcelona, The Bob Rauschenberg Gallery at Edison State College in Fort Myers, FL, Lesley Heller Workspace and Kathryn Markel Fine Art in NY, Nordisk kunst Plattform in Norway, and The Schoolhouse Gallery in Provincetown, MA. Museum exhibitions include Islip Art Museum in NY, Miami Art Museum, The Provincetown Art Museum, MA, Museum of Art Fort Lauderdale, The Corcoran Gallery of Art in Washington, DC, Frost Art Museum at FIU, and the Wolfsonian Museum/FIU in Miami Beach.
Her large-scale projects and commissions include murals for the Miami offices of Facebook and the lobby of the AC Hotel in Miami Beach, a mural inspired by dazzle camouflage painting of WWI warships for the exterior of the Wolfsonian Museum-FIU in Miami Beach, and a terrazzo floor for a new construction Fire Station commissioned by Miami-Dade County Art in Public Places. Spare Room, Shelf Life  and Frequent Shopper are all episodes from an ongoing project on storefronts as devotional spaces for consumables. Other projects: GroundCover/DanceSteps sidewalk and crosswalk art for the City of Tampa, FL, Hand Painted Warehouse for Locust Projects in Miami, Shadow Canopy cement tile and SunBlocks hand-knotted rug for Miami-Dade County's GSA Trade Shops Facility, and a glass mosaic mural, Paseo, for One Miami Riverwalk.
Weinberg received a BFA from the School of Visual Arts in NYC and an MFA from Tyler School of Art in Philadelphia. She has been a visiting artist and instructor at Tyler School of Art, University of South Florida, Florida Atlantic University, Miami International University of Art and Design, Kenyon College, and a mentor at Transart Institute MFA Program in Linz, Austria. A project consultant to museums and non-profits, she develops exhibitions, curricula, artist residencies, workshops and mentorship programs for teens, including Brick x Brick, an after-school program of Perez Art Museum Miami.
Weinberg has been Creative Director of Girls' Club in Fort Lauderdale since 2006, and she served as Artistic Director at the Art and Culture Center of Hollywood, also in Florida. She is founding principal of IPO, an ongoing interdisciplinary artistic collaboration. Her work has been published in Aesthetica, HOME Miami, luxe., Elle Decoration, Design Bureau, The New York Times, The Miami Herald, ICON magazine (UK), Metropolis online, El Nuevo Herald, Miami Modern Luxury, World Architecture News, Cover magazine, Miami New Times, Florida Inside/Out, and is featured in the 2014 Louis Vuitton Miami City Guide. She is featured in books: Graphic USA, Tile Envy, Dazzle: Disguise and Disruption in War and Art, and Miami Contemporary Artists.
Download a complete C.V. here.
mail at michelleweinberg dot com
(photo: Stephan Goetlicher)