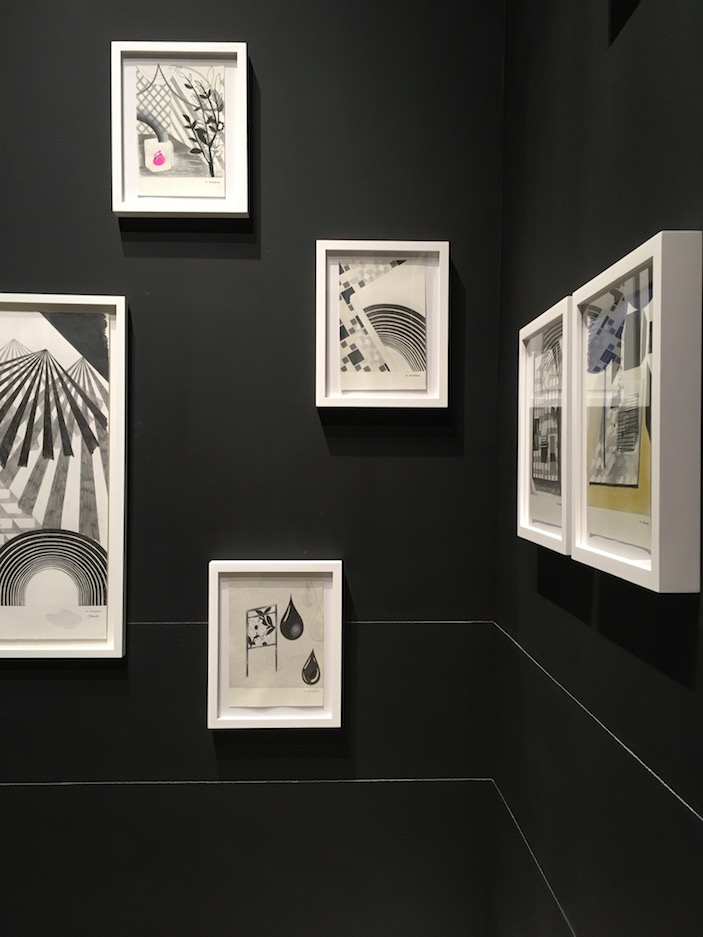 Drawings and papier maché works are installed in Gallery 2 at Dot FiftyOne Gallery, on view through June 17, 2018.
An opening reception for the artists will be held on Friday, April 13th , from 7:00 – 10:00 pm. Dot Fiftyone Gallery is located at 7275 NE 4th Ave, Little River, Miami.  The hours are Monday to Friday, 11 a.m. to 7 p.m. Saturday by appointment. For further information and visuals of the show, contact the gallery at 305-773-6537 or by email at isaac@dotfiftyone.com
Selections From Something Vast is an installation of recent graphite drawings and boxed arrangements of papier maché objects. The works shown demonstrate how I accommodate the maddening and inspiring accumulation of images and things in contemporary life. To paraphrase the designer Ettore Sottsass, I discover value in a wasteful society by involving myself in the symbolic and spiritual meaning of useful things.
The small graphite drawings are a product of transit. They are my travel papers, accompanying me on planes and car trips, a dossier I pack with me. They record characters and episodes from the moving stream of inspirations that comes from my thoughts, observations of my environment, images from magazines, art and objects viewed in galleries and museums, friend's studios, from books I'm reading, online researches and via social media. They are diaristic in their compulsive link to my lived experience. Their subjects are storefronts and vines, interiors and clothing, paintings and architecture, stage-y landscape, signs and billboards, an eccentric and abstracted scenography.
The papier maché works are the most recent iteration of my ongoing project called Shelf Life. They are composed of found packages and vessels recycled from everyday use.
Their branded messages are sometimes replaced with new banalities such as "Win" or "New", but most often their surfaces are coated with color relationships and geometric compositions. The familiar forms of some of the products co-exist with their new appearances, and in this way I collaborate with the layers of social veneers that we interact with in real life. Like dioramas, toy and gift sets, candy or perfume assortments, generic product and souvenirs, these works are alternately valueless and fetishized. They speak to consumer lust for beauty, vitality, allure, coveted and bought home to become part of personal rituals. One of the sources for these boxed sets is the Chinese tradition of burning paper replicas of everyday personal items at funerals and tomb sweeping ceremonies. For me, they involve me in the ephemeral nature of things and human life, and the questionable longevity of shelf life or posterity, the afterlife of art.